BPW International now registered in Geneva!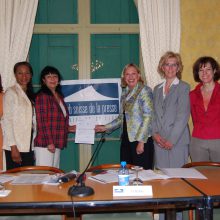 BPW International now registered in Geneva!
Exclusive interview with Mrs. Liz Benham, President
BPW International has chosen to celebrate its 80th anniversary in Geneva with two major events : its official registration as an NGO and the LENA Award Ceremony, held on April 30th, which honoured three outstanding Swiss businesswomen for their achievements.

The International Federation of Business and Professional Women (IFBPW) represents the interests of working women from over 90 countries across five continents and has been in consultative status with the United Nations Economic and Social Council (ECOSOC) since 1946. In 2010 IFBPW, known worldwide as BPW International, commemorates 80 years of advocating for gender equality and empowering women educationally, politically and economically in the societies in which they live.
Dr. Lena Madesin Phillips, is the organisation's founder. She was an American Citizen touring Europe to meet other professional women and in 1930 chose Geneva, Switzerland, as the birthplace for BPW International. The ideas behind BPW were to improve working conditions, laws and attitudes towards professional women by building a network and sharing knowledge. Its success has been beyond imagination.
Today, BPW International has over 30 000 members in 96 countries and is involved in major issues of concern to women. Liz Benham, President of BPW International, made the trip from New York to talk to us about the current and future challenges which BPW faces.
Women's Empowerment Principles in Brief
Women's Empowerment Principles
Equality Means Business
A joint initiative of the UNIFEM and UN Global Compact
1. Establish high‐level corporate leadership for gender equality.
2. Treat all women and men fairly at work – respect and support human rights and nondiscrimination.
3. Ensure the health, safety and well‐being of all women and men workers.
4. Promote education, training and professional development for women.
5. Implement enterprise development, supply chain and marketing practices that empower women.
6. Promote equality through community initiatives and advocacy.
7. Measure and publicly report on progress to achieve gender equality.
More information about WEP and how to promote this program : http://www.unglobalcompact.org
Mrs Benham, you have just registered BPW International in Geneva. What does this mean?
BPW is 80 years old and has enjoyed consultative status with the United Nations since 1947 but, believe it or not, we were not a legal entity anywhere in the world! Things were a little bit different when BPW was created. We began the process of registering BPW as a non-profit Non-Governmental Organization (NGO) four years ago. Following on from Dr. Philips' vision, Geneva was, and still is, the place to be registered, considering the work we do with the UN and the goals of our organization. You know, we participate in the work of the UN in any field which concerns women, which in practice means every field ! We bring our contribution to the CSW (Commission on the Status of Women), as well as specialized agencies including the WHO, UNIDO, FAO and ILO. We have permanent representatation at the Council of Europe and at the UN Headquarters in Vienna, Geneva and New York, as well as UNESCO in Paris, the FAO in Rome, and the five United Nations Regional Commissions. We are all very excited about the fact that BPW was founded here in Geneva and we have come back to our roots.
We are also proud that Switzerland – with 2500 members – is the second largest BPW federation membership in the world, relative to its population !
Can you tell us more about BPW and its goals?
We enhance the business and leadership potential of women all around the world through networking, advocacy, mentoring programs, skills building and economic empowerment programs. Some of our objectives include identifying skills and helping women realize their potential. That's the key. Through our projects, we very quickly identify leaders and bring them along with us. It is inspiring, because this is not common, even in the corporate world. We engage our leaders all the time. We have mentoring programs and success groups, as well as many local projects which are perfect for identifying skills! Through a project, our members can learn and practice skills, for instance in project management, logistics, fund raising or public relations. Our mentoring programs are here to help them reveal their potential. It is real-time learning and it is extremely powerful. You then have the possibility of developing within the organization, being involved in local, then national and international projects. The power of our network helps us identify the person with the right skills to manage, or to teach somebody what she has to learn to bring success to the project. The rapid rotation within management positions at BPW allows our members to easily gain responsibility as well.
The skills and experience you gain are priceless in both your career and your personal life and such possibilities for self-improvement are unique.
LENA Awards 2010-06-02
The second LENA Awards Ceremony, held in Geneva the 30th of April, saw three outstanding women being distinguished for their achievements. Amongst 55 candidatures, 9 were nominated for 3 awards.
And the winner is…
« Best Project for the Women Cause » , Véronique Goy, for « Equal Salary » (www.equalsalary.ch)
« Performing Company » , Jolanda Plüss, CEO of Eiholzer Gebaude-Management SA (www.eiholzer.ch)
« LENA of Honour » , Paola Ghillani , Paola Ghillani & Friends SA (www.paolaghillani.ch)
Pages: 1 2