The University of Business and International Studies (UBIS) has been present in Geneva since 2006. It offers Bachelor and Master degrees in Business Administration and International Relations as well as short term specific certificates in International organizations and banking and financial services (design speciafically for people who want to work in those specific sector).
Students attending this specialised University have the opportunity to personalize the curriculum and duration of their academic courses. This ensures that they can learn in an environment and at a pace which is most suiting to their personal and professional needs. Through UBIS's successful collaboration with Potomac College a regionally accredited institution located in Washington, D.C. UBIS students can now graduate with a dual Swiss/US Degree. The Dual Degree program gives the option to study with Potomac College either online or on-ground in Washington. The program is designed in such a way so that UBIS students can pursue their educational goals whilst gaining invaluable international exposure and marketability.
Quentin Randaxhe, the Business Development Manager, speaks with great enthusiasm about the programs: "We have students who come from about 40 different countries because our courses can be taken either at the school or online."
The three programs offered by the UBIS are as follows: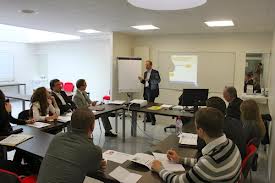 Masters :  Master degree in Business Administration
-> Executive Master in Business Administration-> Master of Arts in International Relations
Bachelor's degrees :  Bachelor in Business Administration
-> Bachelor of Arts in International Relations
Industry specific programs :  Banking and Financial Services
-> International Organizations
"Our courses are designed to meet the requirements of companies and International Organizations. Furthermore, all of our lecturers have past or ongoing professional experience in the fields in which they teach. At UBIS we take pride in knowing that we are able to provide our students with current, implemental practical knowledge and to create a platform whereby our students can network with professionals from a variety of industries and sectors."
The UBIS philosophy, from a pedagogical point of view is: "We provide our students with an individualised and tailored curriculum so that they may take off to a successful career. Each day UBIS strives to provide more value to its programs by ensuring a quality of excellence."
When discussing UBIS's future aspirations and goals Mr. Randaxhe was told that: "UBIS intends to continue forging lasting and successful partnerships with international Universities, Companies, NGOs and International Organizations so to provide our students with as much of an advantage to succeed in today's competitive job market."
As part of our continued commitment to innovation UBIS has established key partnerships with leading universities in the United States, Europe, Asia and Africa to provide students, working professionals and faculty with a more global view of the educational and work landscape.
Through UBIS's network of international consultants and experts from a variety of business backgrounds UBIS students are provided with services such as advice, workshops and symposiums as well as the possibility of internships in companies and international organizations. At UBIS we do our upmost to ensure that our students are well placed to enter the global job market.
Do not hesitate! Visit their site www.ubis-geneva.ch or go to see them at Avenue Blanc 46, CH-1202 Geneva.
Odia Iswala