Geneva Call
Mrs. Elisabeth Decrey Warner, President and Mrs. Katherine Kramer, Director of Asia tell us about their globally respected NGO.
© Geneva Call
How did you get the idea for this concept and take the first steps towards creating your organisation?
The Ottawa Convention is the international treaty which bans the use of anti-personnel mines. Since only states can sign an international Convention, Geneva Call arose from the need to include armed non-State actors (NSAs), such as guerilla groups, rebels or liberation movements, in the ban, as they are the main users of anti-personnel mines. These NSAs are therefore encouraged to sign Geneva Call's 'Deed of Commitment for Adherence to a Total Ban on Anti-Personnel Mines and for Cooperation on Mine Action'. Each Deed of Commitment is signed by three parties: Geneva Call, the NSA and the Government of the Republic and Canton of Geneva, which acts as the guardian of the signed Deeds of Commitment.
In the beginning, however, Geneva Call (also known as Appel de Genève) faced some difficulties. The idea of negotiating with armed NSAs is very sensitive, since they have no international recognition. This meant that governments, including Switzerland, were reluctant to cooperate with us, mainly because they were afraid that it would provide some legitimacy to these NSAs. In the end, a legal basis was found for the Government of the Republic and Canton of Geneva to be the "guardian" of the signed Deeds of Commitment. This was an excellent way of supporting our work because it avoided giving any form of official "recognition" to the NSAs, while also providing them with an adequate degree of 'acceptance'.
When NSAs sign the Deed of Commitment in the Alabama Room in Geneva – where the first Geneva Convention was signed – the co-signatures of both the Canton of Geneva and of Geneva Call add credibility and seriousness to the process. These signatures are key as they demonstrate to the NSAs that their engagement is being taken seriously and that they are expected to respect it.
© Geneva Call
Is each Deed of Commitment signed in Geneva?
Every case is different and so is its solution. When there are travel or security issues, the signing ceremony can take place in a neighbouring country, although we prefer to invite the people concerned to Geneva. Switzerland, and particularly Geneva, has the world-wide reputation of being "neutral, reliable and discrete". The word 'Geneva' is synonymous with trust, respect for the law and reliability. Switzerland is neutral, has a history of working for peace and has no colonial past, which helps tremendously.
Before inviting them to Geneva, we verify that these NSAs are not under the threat of arrest and that they will not try to stay in Switzerland (something which has actually never happened). Most of the time, NSAs ask to keep a low profile when they are here. At their request, we arrange meetings for them with international actors such as the ICRC or UN agencies. At the same time, we also have firm rules when they are in Switzerland that they may not speak about politics or make any provocative declarations to the media. In general, these are well respected.
Whenever we begin the process of working with an NSA, we inform the relevant government. We don't go into a country or territory illegally or when only holding a tourist visa. If a government refuses our visa application, we respect this and we find other ways to proceed, such as working with local partners or having meetings in a third country. The legitimacy of engaging in a humanitarian dialogue with armed NSAs is steeped in the Geneva Conventions of 12 August 1949, which state in common article 3, "an impartial humanitarian body, such as the ICRC, may offer its services to the Parties to the conflict".
Sometimes, we even inform the concerned government that representatives of the other party to the conflict, the armed non-State actor, are coming to Geneva and invite the government to attend the signing ceremony. For example, in 2001, the Sudanese government attended the signing ceremony in Geneva at which the leaders of the Sudan People's Liberation Army (SPLA) of Southern Sudan adhered to the Deed of Commitment. Soon afterwards, the government declared that the State of Sudan would be able to adhere to the Ottawa Convention.
© Geneva Call
Do you cooperate with other anti-landmine humanitarian organizations ?
Yes, our partnerships are complementary. Although Geneva Call is an advocacy organization, it is important to have links to operational activities, including de-mining, victim assistance and mine risk education. These operations are conducted by expert NGOs with the relevant technical skills and we have quite an extensive network with other international organizations. We have worked with the ICRC, especially for training; with the Geneva-based FSD; with local partners worldwide; as well as implementing partners which work on specific aspects, depending on the countries concerned. Two such groups are the Mines Advisory Group from the UK and the Danish De-mining group.
Both genders are well represented in your team. However, what happens when a woman digs her heels in when when negotiating with an armed group in remotes areas, for example, in Colombia or in Sudan?
This might be surprising, but sometimes it can help if you are woman. Perceived as givers and protectors of life, we are probably seen as being less confrontational than men. These groups probably also respect the fact that we are coming to them to negotiate in person rather than remotely, via email.
If this is the case, they can be more receptive to our arguments to improve their respect for humanitarian law and voluntarily renounce the use of mines, for instance.
Could you tell us about your recruitment policy ?
As far as local jobs go, like accounting and administration, we recruit locally through agencies. For operational staff, we use our network and ask for personal recommendations to choose the most suitable candidates – not only in terms of their technical skills but also to ensure they fit into the team. For example, we might select people who have worked at the ICRC or from the Graduate Institute of International and Development Studies. Applications for internships are accepted from students who have already obtained a BA and who are currently enrolled at the University of Geneva.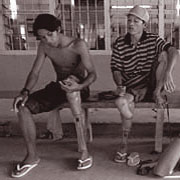 © Geneva Call
We look for people with: sharp, subtle negotiation skills and the ability to adapt them to any given culture and field; commitment; project management capabilities; knowledge of international law and human rights; good physical and mental health; a willingness to travel – and good life insurance! The age of the person who is trying to negotiate with armed non-State actors is also very important and so the ideal age is between 35-50.
Salaries are based on the job guidelines issued by the State of Geneva, reduced by a factor of 10%.
Could you summarize your training opportunities ?
We regularly organize internal training and our staff can also attend external sessions. Last year, for example, we set up security training focused country missions; training of trainers in various fields; and child protection training.
What new projects do you have in mind for 2009 ?
We began two new programmes last year, and we have to expand and implement them from 2009 onwards. One is based on preventing violence against women and in particular, the use of rape as a type of warfare. The other is particulary looking at the use of child soldiers by armed non-State actors.
Where does your budget come from?
As is the case for many NGOs, the question of finance is always a concern. We suffer from a lack of donations and are also victims of our relatively small size. Large donors, like States, prefer to give one million Swiss francs to a single project rather than donate small amounts to different projects such as ours which have a 'small' budget of 100-200 thousand Swiss francs, or 500 000 at most. This is because the paperwork and red tape generated by giving a grant require the same energy and cause the same problems whatever the size of the donation given. Finally, the present economic situation is also certainly having an impact on our future budget.