Google
The Headquarters of Google Switzerland is an enormous building located in the Hürlimann suburb of Zurich. Inside the biggest research centre outside of the United States, 600 people work in an original, themed, multi-coloured pop environment. The American giant, unaffected by the economic crisis, is famous for its particularly long and atypical recruiting process since in addition to phone interviews, it also conducts a series of interviews in which the potential future employee's colleagues also take part. The company is also well-known for its commitment to its employees' well-being (see our investigation on well-being at work) as well as its philosophy. We met Matthias Meyer, the Corporate Communications & Public Affairs Associate for Google Switzerland.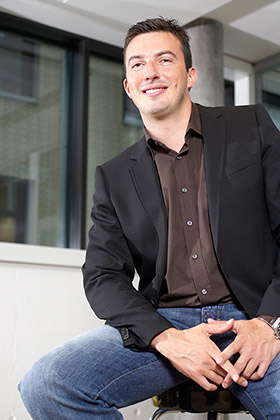 © Matthias Meyer,
chargé de communication de Google Switzerland
Matthias Meyer, what is your company's philosophy?
We have a very particular philosophy. Google's mission is to organize information on a global scale in order to make it accessible and useful to all. To achieve this, we have to push innovation. So that our employees can give their all, we have to ensure they concentrate on their work and not on other things, while realising that sitting in front of a computer for eight hour a day is not the most productive way of working. To encourage creativity and ideas, Googlers can use our games rooms equipped with table football, video games, snooker and board games. They also have access to the 'Water Lounge', a relaxation room lit entirely by aquaria built into the walls, a gymnasium or mini-kitchens on each floor. In the majority of these spaces, there's a white board on which the engineers can write down ideas as soon as they crop up, for example, in the middle of a game of snooker. We advocate a culture of instantaneous feedback, something which is essential in the fast moving world of IT and thanks to this, almost every week a novel idea is born. Computer scientists are doers. They reacte to events and because we promote direct communication, without the need for going through someone's assistant or creating other barriers, things can progress faster. We also foster openness and because there is a weak hierarchical structure here, if people have a problem, they can talk about it immediately and openly. Still with the aim of promoting speed in every task we do, we operate in small teams with a Tech Lead as the head of the group doing the same tasks as the others in the team he supervises and coordinates. Every three months, employees define their own targets and work however, wherever and whenever they want to, to reach these targets.
How many employees work for Google Switzerland and what are their responsibilities?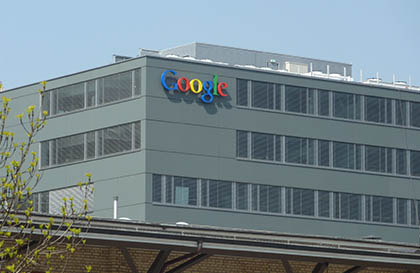 The Headquarters of Google Switzerland
© Julie Bauer pour Gbnews
As of 31 March 2009, there were 20 164 people working for Google around the World. In Zurich, we started with two employees in 2004 and currently have 600 people made up of 40 different nationalities. Despite Zurich not being the European Headquarters for Google, it is the biggest Google research centre outside of the United States. The Zurich team makes the search engine work better for users and our partners; maintains the quality of Google AdWords; administers GEO products such as Google Earth and Google Maps; and ensures secure navigation thanks to the Safe Search filter which was developed here.
Which qualities do you need to work for Google?
The Headquarters of Google Switzerland
© Julie Bauer pour Gbnews
Our recruiting motto is 'We hire the best'. We are currently looking for talent and diversity is important. Among the present workforce, there are not only a lot are young people fresh out of university, but also people of all ages too. They come from different cultures because you have to remember that the Internet is not only an English-speaking world!
It's important to see if someone can work in this environment too. During the recruitment process, the candidate has a discussion with different company employees as we want to hire someone 'googly' who can be proud of the culture we promote. At the same time, the aspiring 'Googler' also has the chance to see if he is really interested in us or not. The people we hire fulfil our criterion 'To be out of the ordinary'. For example, in Zurich, we have some engineers who were elite sportsmen, musicians or film producers. All of them have something exceptional in their resumé or have already set up a company. We give priority to candidates with a rich cultural background and a mastery of English is, of course, essential.
What is more important to you when recruiting – a candidate's education or experience?
Both are important. Good marks and experience gained from working for companies or in voluntary organisations are both strong points when applying.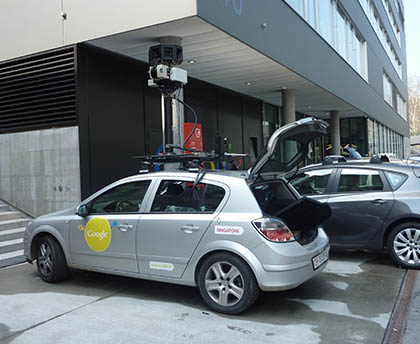 Google Street View car
© Julie Bauer pour Gbnews
What is your training policy? Do employees take courses to perfect their skills?
Yes, every department offers language classes, continuous professional development and, according to need, some employees can also take parallel classes at University. Moreover, through our concept of '20% Time', we encourage personal projects related to IT by giving every person the opportunity to spend 20% of their work time on them. Successful products are often created during this time. For example, Gmail was the idea of an employee who was fascinated by recipes and exchanged them with friends by e-mail. To find his way around his mailbox, he invented an email search function and as a result, Gmail was born in 2004. Similarly, it was a 'Zoogler' (a 'Googler' from Zurich) called Gerhard Wesp who is interested in aviation and developed the Google Earth Flight Simulator.