Green Jobs: From a gloomy present to a bright, green future?
How do you see the change in perception?
It takes time to convince people that there is something which can be done. Take the findings of a survey by the WBCSD (World Business Council for Sustainable Development): owners, architects and engineers people think it is 30% more expensive to build an energy-efficient house when the actual cost is 5 to 10% more. In addition, you have a very reasonable pay back period. We need to disseminate information better and to encourage a long term vision and perception.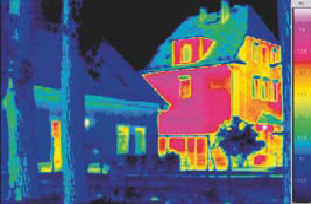 Thermal image of heat loss from a home in Germany
© BSM Werner Klein
India has seen an enormous shift in thinking in terms of how it sees its future. 18 months ago the Indian government said it was not cost-effective to do anything about emissions. A recent study by the Indian TERI Institute study predicts that India's economy could grow at 8% per year, have a population of 1.4 billion in 2030 and provide electricity to all citizens, while keeping per capita emissions below 2 tons per person per year. If this was a world average, we would be doing fine. Not only does TERI say it is feasible, this kind of technological 'leapfrogging' would be cheaper for India to do rather than conducting business as usual.
Does the ILO or your department get directly involved in strategic plans to manage the skills gaps or do you advise governments on how to cope with the skills gap?
Our role is to raise awareness amongst our members, who are governments, workers and employers organisations and their representatives (trade unions) from more than 180 countries. Our Director-General gave a speech to the G8 Labour Ministers on green jobs to encourage them to become active in this field. We also work on a rapidly growing number of pilots and demonstration-type activities and help countries develop programs and partnerships. For example, in China, there is an ILO programme for small enterprises and entrepreneurs. We are building the question of energy efficiency into the training modules for entrepreneurs to get more leverage from this multiplier activity.
We are also working with the European Commission on a study of skills needs related to green jobs and ways of addressing these skills gaps to train people before the need arises.
With the UN environment programme, UNEP, we are fleshing out the concept of the Global Green New Deal. We will have a joint study on green job and economies, country by country, sector by sector, looking at economically viable and feasible investments, helping governments to formulate these, and then assessing their environmental & social benefits.
In February 2009, we held a training session on green jobs for government and worker representatives from major Asian countries in our international training center in Italy. We will be following up on how it can help them identify opportunities for developing green jobs.
The Green Jobs Initiative is a joint initiative by the United Nations Environment Programme (UNEP), the International Labour Organization (ILO), the International Employers Organization (IOE) and the International Trade Union Confederation (ITUC). It aims to assess, analyze and promote the creation of decent jobs as a consequence of necessary environmental policies. It supports a concerted effort by governments, employers and trade unions to promote environmentally sustainable jobs and development in a climate-challenged world.

Work under the Green Jobs Initiative so far has focussed on collecting evidence and different examples of green jobs creation, resulting in a major comprehensive study on the impact of an emerging green economy on the world of work.

The second phase of the Green Jobs Initiative will move from information gathering and analysis to assistance in policy formulation through active macro-economic and sectoral assessment of potential green jobs creation and implementation as part of the ILO's Decent Work Country Programmes.
What do you see as being the biggest challenge ?
Our unit is trying to generate policy coherence to achieve a complex set of objectives and create a sustainable development path. We believe the right way to solve the current financial crisis would be to jump-start the greening of economies, creating many green jobs in the short-term while setting them on a much more sustainable medium and long term path.
The Obama policy has an immediate and long-term component to it. There is a 10 year investment program in changing energy generation patterns in the USA while doing everything possible in the short term to help this along. The package also extends social security coverage for unemployed and those without health insurance and maintains access to education for all, including a $500 training programme on 'green collar' jobs. We believe this is the right approach.
So the ILO can see a positive side to the Credit crisis, in terms of it having the potential for change?
Yes, minds are being focussed on this green issue though we are not sure if the battle is won yet. Some countries are taking initiatives, such as the USA, several european countries, Korea (which has a national recovery plan called the 'Green New Deal') and China, which has the biggest green component in its recovery package in absolute terms. But there are other countries which are still perpetuating the status quo. Our objective is to convince them to change their focus and meet these many challenges.
What is the timetable for an organised response around the world ?
There is a United Nations strategy on climate change supporting the adoption of a decisive new agreement in Copenhagen this December. In the meantime, the UN is also preparing a concerted response to the economic crisis and in this context the Secretary-General has called for a green new deal. Major decisions are being taken now. We have to act now for a green future.