ICRC
The ICRC is an independent, neutral organisation ensuring humanitarian protection and assistance for victims of war and internal violence. Based in 80 different countries around the world, with more than 12,000 staff, the ICRC has been active since 1863.
With its Headquarters in Geneva, Switzerland, GBN met with the Director of Human Resources, Daniel Ernst.
© ICRC
Mr Ernst, you are responsible for the recruitment unit at the headquarters of the ICRC in Geneva. Can you please introduce yourself and explain what your main functions are?
I joined the International Red Cross in 1994 and held various posts in the administrative field as resource manager in different countries. The resource manager is in charge of the human, financial and material resources for one of our overseas delegations. My last field mission was to China, where I participated in the establishment of our delegation in Beijing in 2005.
I have been in charge of the recruitment unit of the ICRC for the past 2 years. There is a team of 12 people taking care of staff recruitment within the HR department. Our objective is to make sure that the ICRC has the required number of professional and qualified staff members in various functions in order to carry out its humanitarian activities all over the world.
What is the size of the ICRC workforce?
The ICRC currently employs about 1,400 delegates and specialized staff on field missions, backed up by 10,000 locals, supported and coordinated by 800 staff at headquarters.
Today, our delegations and missions cover over 80 countries with an annual budget exceeding 1 bn CHF.
What are the major skills that you look for when hiring employees?
A professional approach calls for qualified staff who are able to understand the different contexts in which they work. In addition to their professional qualifications, they require special qualities such as: sensitivity, curiosity, the ability to listen, flexibility and the desire to find solutions to problems in highly complex and continuously changing environments.
One of our principles is humanity. This is an important one. The fact that we are a humanitarian organisation calls for a particular interest and motivation that goes beyond purely professional and career expectations.
We hire staff members for about 50 professions who come from various fields. For example, our delegates actually carry out our humanitarian mandate on the spot. They are in direct contact with the people in need – they visit prisoners of war, organise family reunions and negotiate with authorities.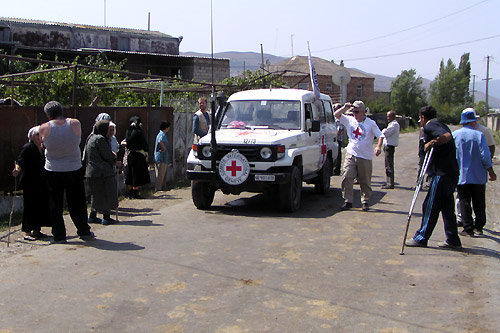 © ICRC
There is a constant need for administrative staff, engineers, agronomists, medical personnel, logisticians and interpreters to name just a few. Arabic speaking delegates are very much welcome.
All vacant positions are detailed on our website www.icrc.org. Visiting our website is worthwhile and lots of HR information can be found in the "Jobs at the ICRC" section.
What is the organization's recruitment policy?
We receive about 5000 job applications per year. Of these, we recruit 300 people per year, approximately 5-6% of the total number of applicants.
We took the step of moving from traditional paper-based recruiting towards an e-recruiting system a year ago. Our initial fears about, for example, losing candidates have fortunately not been realised and it is amazing to see how quickly our candidates have adapted to this new system. I think future recruiting tools will be web-based and this trend can be clearly seen, at least among those large employers with over 500 staff members. A few advantages include it being more interactive for candidates, the ability to respond within a short space of time and, on another level, the objectivity of such a tool in treating all candidates equally.
There is, however, a danger that so called "internet language" could spoil the quality of an application. Candidates should pay the same level of attention to filling in an online CV as they would do with a traditional paper application (such as the general presentation, the language used and attention to typing/avoiding spelling mistakes).
Hence, candidates are invited to apply online, via our website, where they can find all the necessary technical information on how to do so. We do not accept CVs by post or e-mail or spontaneous applications either.
Each application is thoroughly analysed. If the candidate fulfils all the selection criteria, he or she will be invited for a pre-selection interview in Geneva. This interview focuses on his/her CV, education, experience, motivation to work for the ICRC and a number of practical aspects.
After a successful interview, the candidate is invited to participate in an assessment day with other candidates. This allows us to observe their behaviour and actions while performing several individual and group exercises.
Some dimensions are of particular interest to us, such as communication skills, stress management, team-spirit and the overall personality of the candidate. However, only delegates and administrative staff attend this assessment day. All candidates for specialist functions have a more intensive initial interview day.
If selected, a 3 week integration course in our training centre near Geneva is the first step in a fascinating and rewarding new activity.
What are the values and principles that are needed to work with the ICRC?
ICRC personnel perform their duties within the framework of International Humanitarian Law (Geneva Convention and Protocols) and the fundamental Principles of the International Red Cross & Red Crescent Movement.
Our colleagues in the field, work in an often complex, difficult and dangerous environment. They have to demonstrate a deep understanding of the situation and a professional approach. ICRC staff must promote respect for human dignity at all times in any situation.
The ICRC offers its newly hired staff members unique work and life experience in an international, culturally different context with a large degree of autonomy and important responsibilities from the first day of the mission.
A solid motivation for humanitarian work and a strong will to tackle the every day challenges of the job are needed in order to succeed as well as a sound professional background.
#PAGE-BREAK#
What are the basic selection criteria for the ICRC?
You will find detailed selection requirements and the skills required for each vacancy on our website. We do not hire staff for our Geneva headquarters, or very seldom, but instead concentrate on recruiting for the field. Our headquarters positions are open to colleagues with prior ICRC field experience.
As a general rule, candidates should be available to go abroad for 24 months without their family. Due to changing operational needs, we do not hire staff members for a particular geographical location but for a job and they must be ready for deployment to any country on 12 month missions. Candidates should be aware that their working environment might be difficult security wise and basic in terms of accommodation.
For delegates and administrative staff, the age limit is fixed between 25 and 35 years of age and they must be fluent in English and French.
For other more specialised professions, these limitations are not binding – again, detailed information is available on our website.
As a rule, candidates must have completed university or an equivalent education and have at least two years professional experience after obtaining their degree.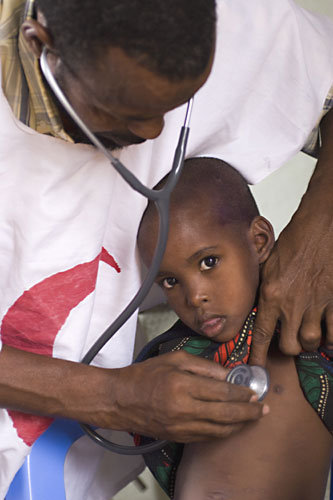 © ICRC
Do you have a system of Traineeships or Internships?
We only offer a few positions at headquarters, while there are no training positions in the field. These internships within our organization last for one year, not less.
If you are talking about training our staff members, we are of course keen on strengthening the professional skills of our staff. An important aspect of our overall policy is that all managers are trained and developed in-house. Hence, we offer a wide array of in-house training for the various professions on top of the initial basic training or integration course. This also means that we offer management and leadership training for our line-managers, internally or externally, and that our training is very much adapted to the needs of every individual.
What are the recruiting process channels in the ICRC?
Mainly, through our web platform, where the applicants can create their personal account.
Candidates may also apply through our partners abroad, the National Red Cross / Red Crescent Society Partners. Finally, we can also be found in the press, the media and on recruitment websites.
Would a local employee have the same chances of working at Headquarters?
National staff have the same opportunities as any other candidate for filling expatriate positions. Their experience within our organization is a plus and we do support their applications. However, their main competence is in the knowledge of the local social and political context, and it would be impossible for the ICRC to conduct its activities without the backing of their national staff.
What security measures do you take to ensure the safety of your employees around the world?
We have to keep in mind that our main activities are in countries at war. The security of its staff members being a prime concern to the ICRC, there are security rules in place in every office and they have to be followed carefully.
Despite the steps we take to reduce the risks, we cannot exclude the possibility of incidents or accidents occurring during the exercise of our duties.
Nelson Mandela said, "ICRC appreciation lays not only in what they do but also in what they prevent". What are your comments concerning this quote?
As an International Humanitarian organization, our duty is to protect the lives and the dignity of victims of armed conflict and violence in countries around the world. One of our key roles is to prevent suffering by promoting and strengthening humanitarian law and universal humanitarian principles.