Luxury retailers must embrace technology to compete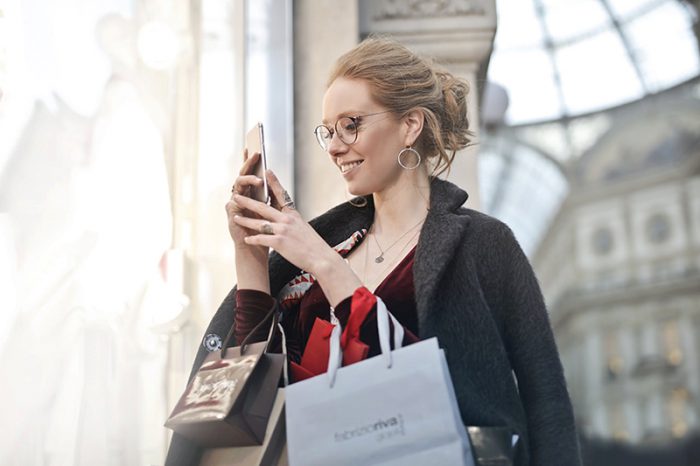 The digital revolution is greatly influencing the retail industry. But are luxury brands able to incorporate smart in-store technologies without going against the sector's traditional values?
In-store Innovative Technologies
As mentioned in my previous article "Smart in-stores are changing customer's experience," the introduction of innovative technologies in retail is changing the game of customer's experience. Many successful companies understand the importance of integrating in-store technologies to enhance the physical shopping experience, especially due to the popularity of online shopping and its negative impact on physical stores.
For instance, Amazon Go allows consumers to simply pick up items without needing to check-out. This is done through the use of artificial intelligence and cameras that capture the purchase and charge the consumer automatically.
The fashion retailers are following the same path. H&M has introduced interactive mirrors in its New York City flagship store that offer customers selfies, style advice, and discounts.
A Tactile Shopping Experience in Luxury Stores
Luxury brands are among the oldest companies in the world. Some still carry the names of the original founders, and many embody French or Italian roots. Family traditions, heritage and values are the way exclusive brands differentiate themselves from accessible brands.
This has created a concern that moving too far towards digitalization could damage the luxury brand's prestige.
A Digital Strategy
Luxury retailers' marketing strategy focuses on delivering unique customer service and an outstanding shopping experience; they want customers to visit a high-end boutique in order to consult an expert salesperson, enjoy a glass of champagne and get their purchase wrapped elegantly. In this way, luxury brands aim to differentiate themselves through premium customer service.
Luxury brands, however, have always tried to find a balance between exclusivity and accessibility. Change is unavoidable though. Today's customers do not have the same expectations as customers of yesteryear. Being now more tech-savvy, shoppers want access to information with the touch of a button.
The digital revolution has forced luxury brands to reconsider their position and think about digital benefits as well as the risk.
Luxury Goods Sold Online are Increasing
Even though luxury brands are behind in technology uptake, online luxury sales including beauty products, perfumes, footwear, jewellery, watches, and leather goods accounted for 8 percent of the US $313 billion global luxury market in 2016.
Furthermore, according to McKinsey, the contribution of online luxury sales are predicted to triple by 2025 to US $91 billion. This shows that luxury consumers are becoming more open to shopping for high-end goods online.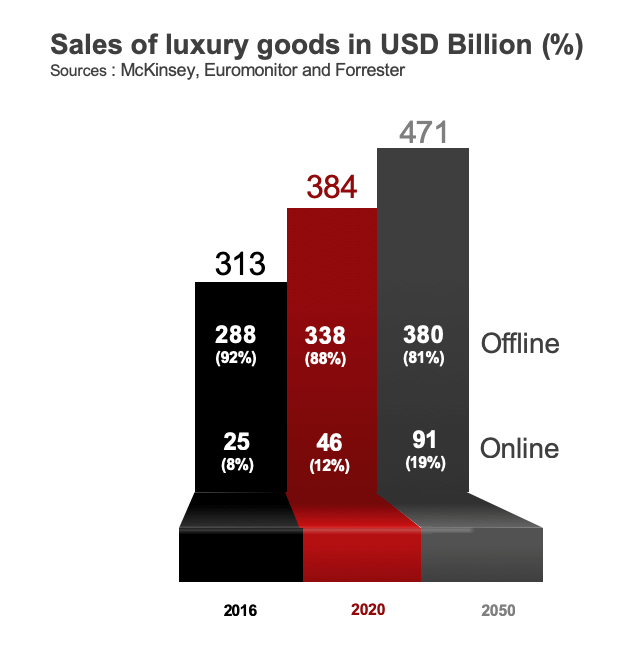 Luxury's First Step Toward digitalization
Though luxury brands have been slow to adopt CX technology, online shopping continues to grow. Luxury retailers need to provide in-store digital experiences.
Some luxury brands, such as Louis Vuitton, have taken steps towards using more technologies in their stores. The brand offers employees tablets to be better informed and updated about special offers and products. This allows them to answer customer's requests quickly by checking a product's availability and place orders if needed.
Technologies that will Influence the Future of Luxury Brands
Luxe Digital has identified three major technologies that will influence the future of luxury retail:
Artificial intelligence
Voice-controlled shopping
Augmented reality
For instance, touchscreen smart mirrors at a make-up counter would allow customers to effortlessly see how different make-up shades suits their face. MAC Cosmetics announced in 2018 the launch in US stores of a new augmented reality try-on mirror.
The premium brand Ralph Lauren has installed digital mirrors in their New York fitting rooms that interact with customers. These mirrors recommend clothes and accessories to complete the client's looks. This allows shoppers to "dress" without trying the actual clothes on. A Ralph Lauren representative stated that sales tripled since the opening of the smart fitting rooms. The premium retailer Kate Spade helps out customers to personalize their handbags thanks to the use of augmented reality.
Risks of using smart tech
Poorly implemented technologies can result in negative customer experiences and discourages shoppers from interacting with it. Therefore, retailers must keep software updated to avoid IT problems.
Well implemented technologies
Luxury retailers have been slow to adopt technologies. As online shopping continues to rise, however, some luxury brands are starting to recognise the importance of providing digital experiences that match their in-store offerings.
For those brands taking the first steps towards digitalisation, it is important to stay away from poorly designed technologies. It is essential for these brands to hire highly-qualified IT and marketing experts people to deal with the risks of using smart tech.
Overall though, well implemented technologies offer the opportunity for luxury brands to enhance their brand image.
Graph by Arlinda Bytyci
Sources:
Inspiring Retail Technology Trends Transforming Luxury in 2018, 2018. Luxe Digital
AR Helps Kate Spade New York Guide Paris Tours, 2017. VRROOM [
DAS, Sandeep, 2018. Technology is the new luxury. Medium 
Future luxury retail brands must embrace technology to compete, 2018. Verdict
GREWAL, Dhruv, NOBLE, Stephanie M., ROGGEVEEN, Anne L. and NORDFALT, Jens, 2020. The future of in-store technology. Journal of the Academy of Marketing Science.
Luxury Retail: How Digital is Transforming High-End Shopping in 2018, 2019. Luxe Digital 
MAC Cosmetics launches in-store AR mirror.
Smart Fitting Rooms: How They Work and Why Stores Need Them – Facelet Blog
TURNER, Mary M. Evaluating the Perception of Luxury Brands in Today's Marketplace and the Impact of the Digital Age on these Brands