New heights for Switzerland's biggest sports business event
Review: SPORT.FORUM.SCHWEIZ 2012 & SPONSORING-BAROMETER 2012 by Philipp Rohrbach (Marketing/Communications/Events/Sports) for Geneva Business News
The elegant Zeugheersaal of the Hotel Schweizerhof in Lucerne was not only a glimmering location after a programme packed first day of the SPORT.FORUM.SCHWEIZ 2012 (for further info ) to host the evening-party Schweizerhof Sports Night with a vast selection of drinks, dishes, music and a freestyle football performance by Adrian Fogel from the United Freestyler team (for further info )…
It also provided a relaxed atmosphere during the  Breakfast Session, the second day of Switzerland's well-known sports business meeting. There, people could enjoy a wide-choice from the morning buffet while listening to the results of the Sponsoring-Barometer 2012 (more details later) conducted and presented by SPORT+MARKT from Cologne, Germany and the ESB Europäische Sponsoring-Börse which is the official host of the SPORT.FORUM.SCHWEIZ series of annual events.
Moreover, other interesting guests and topics were presented during the Breakfast Session: for example, Swiss Olympic Champion Nicola Spirig and her sponsor Erdgas described their professional relationship and Gian Gilli (Sports Director of Swiss Olympic & Club Director of Graubünden 2022) and Matthias Remund (Director of the Federal Office of Sports) officially revealed their strategy concerning the "Graubünden 2022" Olympic bid:
I really liked the presentation about the 'Graubünden 2022' Olympic bid which was very emotional and convincing. I hope the inhabitants of Graubünden and the entire Swiss population will be delighted as well to bring back the Winter Games to Switzerland" said Hans-Willy Brockes, the CEO of the ESB Europäische Sponsoring-Börse which is based in St. Gallen.
The main programme of this year's Swiss sports business gathering contained five special forums (more details later) and took place during the first day at the Kultur- und Kongresszentrum in Lucerne (KKL), providing its participants with very interesting facts and exciting topics related to the world of sports and sponsoring. Olivier Bernhard, 3-time Duathlon World Champion & 6-time Ironman Champion, also added another dimension to this event:
After 2005 and 2008, when I shared my experience as an active athlete with the SPORT.FORUM.SCHWEIZ, this year has been my third appearance but this time as a representative and co-founder of On, a Swiss high performance running-shoe company. The fact, that I am able to meet people I normally never meet elsewhere during the year, friends, colleagues or even future business partners, is exactly what makes this occasion so valuable for me and, I think, for most of the other participants, too.
Blink of an eye & New record
You could see that one person in particular was slightly tired after two days of endless hand-shaking and hosting an event which is vital for the Swiss sports industry, its development and the latest trends. Yet, Hans-Willy Brockes (CEO, ESB Europäische Sponsoring-Börse), was extremely happy with the outcome of this year's event and the performance of his entire ESB team during two very informative days. With a satisfied smile and some pride in his voice, he summed up his personal experience:
Of course it is a pity that this get-together is over in a blink of an eye. Basically, it is over before it has started and it is simply impossible to talk to everyone you would have liked to. From an organisational point of view, we are very pleased. So far the feedback is completely positive and on top of all that, we have achieved an attendance record with over 450 people having joined the biggest sports business event in Switzerland.
Five special forums & Expert knowledge
Football, Event Security, Sports Infrastructure, Responsibility and Media were this year's in vogue topics presented and heavily discussed during the first day of the SPORT.FORUM.SCHWEIZ 2012 at five different forums. In addition, the main stage provided its audience with interesting facts and discussions such as the first evaluation of the new naming partner Raiffeisen of the highest football league in Switzerland. A survey revealed that 80% of all participants are aware of the new league sponsor, yet some media still use the old name, Axpo Super League, instead of Raiffeisen Super League which was introduced by launching the new 2012/2013 football campaign last summer.
From my point of view, it is very interesting to see how Raiffeisen as the new naming sponsor of the first division of the Swiss football league, the Raiffeisen Super League, is perceived by fans, media and the main sponsor itself. I think this, in combination with the new media concept means, there is no doubt that football coverage in Switzerland will have a new innovative quality in the near future which I am looking forward to" said Hans-Willy Brockes (CEO, ESB Europäische Sponsoring-Börse).
On – Running shoes engineered in Switzerland
A running shoe company from Zurich conquered the main stage as well to talk about their fairy tale-like development having sold over 100 000 pairs of high-tech running shoes since their market launch in 2010. On (for further info www.on-running.com) was represented by Olivier Bernhard (Head of Development & co-Founder), Dr. Caspar Coppetti (Global Sales & co-Founder) and Peter Fanconi (Entrepreneur & Investor) who described the biggest challenge they are facing: how to manage and finance such a rapidly-growing company?
According to Dr. Coppetti, it is key for them to focus on a slow and steady development by collaborating with small but specialized dealers rather than focussing on major deals, such as the past failed project with Footlocker America. And Mr. Bernhard who kick-started the entire On story when he modified the sole of his former running shoe by adding cut up pieces of a garden hose due to problems with his achilles tendon, initially, never had the idea of founding his own business:
During my career as an athlete, I concentrated solely on my performances. Setting-up my own running shoe company was something I never thought about. To be honest, I did not even know how a shoe is fabricated. But I definitely know how it feels to run very efficiently, 'effortless running' you might say. I asked myself: 'How would it be possible to transfer this feeling into a running shoe?' And, by focusing not only on the vertical but also on the horizontal impact during the running gait, I invented the CloudTec System which in return helped me to get rid of my achilles tendon problems.
Media & New job profiles
Another interesting part of the SPORT.FORUM.SCHWEIZ 2012 was the media.forum which offered presentations directly linked to the New Media/Social Media age we are living in. Representatives of Swiss Olympic presented their social media guide while David Görges (Head of New Media) from
German Bundesliga club Borussia Dortmund talked about digital media and its importance in relation to the Dortmund fans.
Furthermore, Benjamin Willems who is in charge of Distribution & Marketing on behalf of IST Studieninstitut in Düsseldorf, Germany, delivered a speech about the fact that the combination of new and traditional media is leading to new job profiles:
In order to meet the demands of new job profiles which emerged due to the growing importance of New Media and Social Media within private and professional life, new qualifications are needed. For example, companies, clubs and players have to stick to 'New Media Guidelines' defining the strategy and behaviour in the online sector and its various channels such as Facebook, Twitter, WordPress and so on.
In 2013, the IST (for further info www.ist.de) will offer a four-month course in St. Gallen to enrich its participants with the latest know-how and trends in the world of New Media and Social Media. As a final project, every person will be confronted with a practical task on how to tackle and conduct a professional communication strategy for a particular business.
Last but not least: Football
What would a sports business meeting be without a football.forum? Indeed, not a very sophisticated one. And that is why the ESB Europäische Sponsoring-Börse invited Meinolf Sprink, Director Communications/Marketing, from German Bundesliga football club Bayer 04 Leverkusen. He talked about ways of increasing the level of satisfaction for both spectators and sponsors from a club representative point of view. According to Mr. Sprink, it is not easy to activate the people around the Leverkusen area to watch a game live at the club's BayArena and as a result it is essential that they offer not only a game of football but more an entire entertainment-packed stadium experience. In order to define and achieve those goals, the club needs to work hand-in-hand with its main sponsor, Bayer AG.
Besides the final discussion about the potential of having sold-out stadiums in the Raiffeisen Super League with representatives from Ticketcorner, BSC Young Boys, FC St. Gallen and the Swiss Football League, Simon Träger, CEO of akzio! in Munich, completed this year's football.forum with a presentation about the relationship between spectators and the role of sponsors in generating an attractive stadium experience. Strategies like pre-events (i.e. having a 59 minutes Countdown etc.) before the kick-off might lead to a win-win-situation for the fans by experiencing additional value and for the sponsors by being able to display their names and services in an extended timeframe. 
Sponsoring-Barometer 2012 & Sponsoring in Switzerland
Pascal Schulte from SPORT+MARKT, a research and consultancy enterprise based in Cologne, Germany (for further info), opened up the Breakfast Session and thus the second day of Switzerland's most important sports business meeting by presenting the results of the Sponsoring-Barometer 2012. It revealed that sponsoring in Switzerland shows a positive growth despite the current economic downturn. In general, Swiss companies have increased their sponsoring activities and the structures surrounding them are definitely more professionally managed nowadays. Clearly visible is the fact that Swiss enterprises have raised the bar concerning their sponsoring activities resulting in more defined objectives whose achievements are dependent on the chosen sponsoring engagement.
The results of the 10th Swiss Sponsoring-Barometer are a co-production of SPORT+MARKT and ESB Europäische Sponsoring-Börse. In total, 136 publicity managers from bigger Swiss companies participated in the survey. More than half of the involved enterprises (55%) confirmed that sponsoring has become a central element within their marketing mix and other means of communication, such as advertisements, play a less important role. Four years ago the proportion was only 41 percent.
The times when sponsors were happy about the fact that their logo was visible on banners during TV broadcasts are definitely over. Sponsors often want to have an influence on the platform they are sponsoring and moreover, sponsoring is linked to their traditional advertisements, PR, sales promotion and last but not least to their social media activities. Additionally, almost two-thirds of the sponsors of Swiss sport use their engagement as a means of motivating their employees" concluded Pascal Schulte from SPORT+MARKT. Hans-Willy-Brockes (CEO, ESB Europäische Sponsoring-Börse) added: as a Swiss sponsor it is almost impossible to neglect the field of sports.
This statement is backed-up by the fact that 89% of Swiss-based companies in the survey are involved in sport sponsorship. According to marketing key decision-makers, golf, ski alpine, football and ice hockey will become more and more important as sponsoring platforms in the future, whereas sailing and figure skating might experience a negative development concerning sponsoring.
But Swiss sponsors do not only use sports as their vehicle for sponsoring purposes. 75% of all companies are involved in cultural sponsoring, 62% in social sponsoring, for example, in the field of education or health, and 28% are active within environmental sponsoring.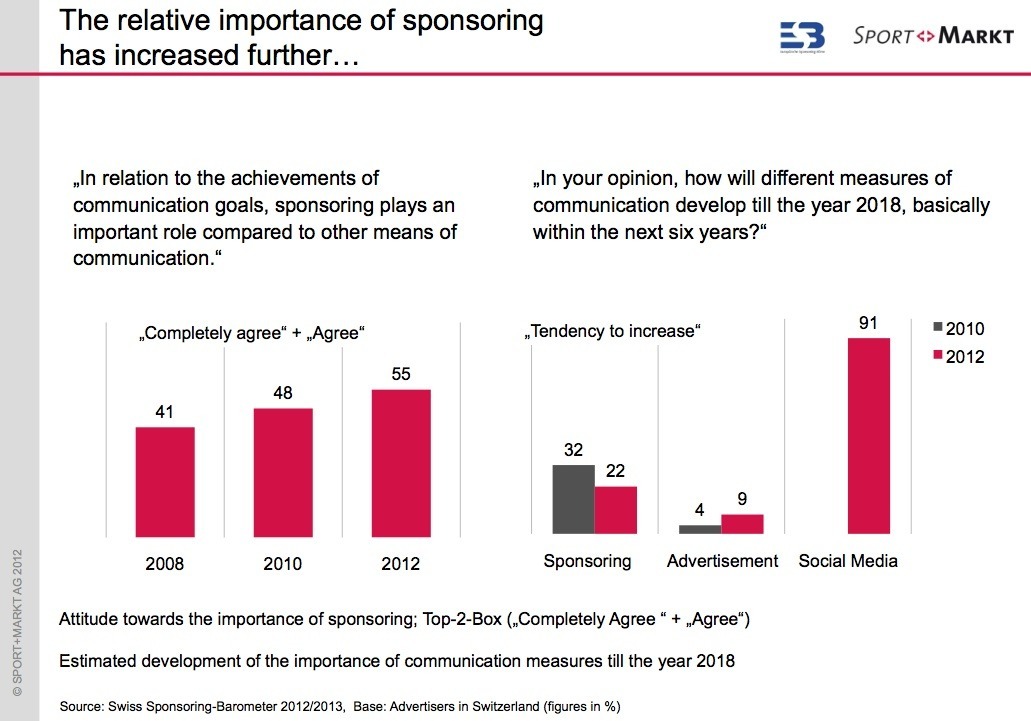 "You can say that nearly every company wants to pro-actively demonstrate how they act responsibly towards society. Social, environmental and cultural sponsoring and, of course, sport sponsoring are excellent means to do so" summarized Hans-Willy Brockes (CEO, ESB Europäische Sponsoring-Börse) the sponsoring efforts of enterprises in general.
Mayan calendar & (perhaps) sport.forum.schweiz 2013
In the event, the calendar of the ancient Mesoamerican Mayan civilization is/was wrong and we are still able to see the sun shining after the 21st December 2012, the 19th edition of SPORT.FORUM.SCHWEIZ will take place on 13th and 14th November 2013, most likely and hopefully again at the Kultur- und Kongresszentrum (KKL) and the Hotel Schweizerhof in Lucerne.