A mere but critical half degree

Momentum is growing for governments to finalise the implementation guidelines of the 2015 Paris Agreement at the annual United Nations (UN) Climate Change Conference this December in Katowice, Poland.
Scientists and humanitarian actors meeting in Geneva, 12 October, called for urgent action on climate change, which they perceive as the world's biggest humanitarian crisis.
The 'Climate Science and Humanitarian Dialogue', hosted by six partners including the Confederation of Switzerland and the Intergovernmental Panel on Climate Change (IPCC) unpacked scientific findings of the recently released IPCC Special Report on Global Warming of 1.5°C. The report confirms the need for a strong commitment to the Paris agreement's aim of limiting global warming to well below 2°C while pursuing efforts towards 1.5 degrees Celsius.
Under negotiation since 2016, the Paris agreement implementation guidelines will be adopted at the Katowice conference and become operational in 2020.
Reiterating recommendations from previous UN gatherings and other climate change fora, participants called for greater engagement between scientists, governments and humanitarian actors in order to avoid new risks, reduce existing ones and strengthen resilience and solidarity.
420 million fewer people
While the mere half degree difference between 2°C and 1.5°C may not sound like much, the IPCC projects that limiting global warming to the latter rather than the former could result in 420 million fewer people being exposed to severe heatwaves.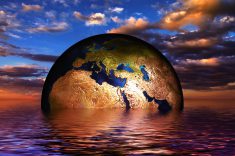 Sustainable Development Goals
The IPCC report also highlights the connection between climate change and all the 17 Sustainable Development Goals (SDGs). Indeed, the SDGs are a major component of the 24th session of the Conference of the Parties (COP) to the UN Framework Convention on Climate Change in Poland.
Forecast-based financing
One of several presentations at the Geneva meeting was by the World Food Programme (WFP). They argued for a greater focus on forecast-based financing as a proven way of moving from crisis response to risk management. Findings from nine countries prone to recurrent climate-related shocks where WFP has tested the approach have shown that investment in anticipatory action and early response at government and community level significantly reduces the need for humanitarian aid when a disaster occurs.
Citing a 2018 study on three drought-prone countries in East Africa, the WFP notes that a combination of early response, safety net transfers, and resilience building activities over a 15-year period could save US$ 4.3 billion or an average of US$ 287 million per year.
Solidarity to do more by 2020
Still, for low-lying countries like the Marshall Islands, Fiji, and many others, even the commitment to lower global temperatures to 1.5°C is not good enough. The 0.5 degrees is the difference between survival and wiping out an entire country.
In a video message to the Geneva dialogue, Marshall Islands President Hilda C. Heine invited world leaders to increase the pre-COP 24 momentum for "action to survive and thrive" by supporting the Summit of the Climate Vulnerable Forum which her country is hosting on 22 November.
IPCC special report: http://www.ipcc.ch/report/sr15
COP 24: http://sdg.iisd.org/events/unfccc-cop-24
Marshall Islands call: https://www.youtube.com/watch?v=QySTpA08LX8
Paris agreement: https://unfccc.int/files/essential_background/convention/application/pdf/english_paris_agreement.pdf
Photos: Pixabay