Mr Dhiraj Saha the Marketing Executive for Access MBA, responded to my questions.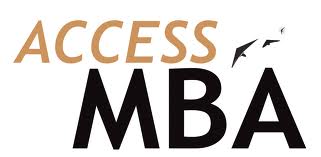 Since 2004, the Access MBA Tour has organised over 280 One-to-One events in Europe, the Middle East, the Americas and Asia. Every year the Tour enables approximately one hundred accredited schools and universities to meet over 20,000 candidates around the world.
"Access MBA was created by Mr. Christophe Coutat who invented the one-to-one approach in 2003 and organized the first event in Paris. The concept is to put candidates and International Business schools in direct contact with each other in one-to-one meetings lasting 20 minutes each. In order to save time for both parties, candidates are selected in advance to match the requirements of the schools and are recommended schools that fit their professional profile.
Why do people want to do an MBA? Mr. Saha explained that an MBA has become a byword for business success, ambition and leadership.
Young professionals who commit to doing a Masters in business or an MBA invest in their development and thus considerably increase their potential for career growth and business success. An MBA is an internationally recognized degree in management which opens up a variety of new windows of opportunity and career paths at the highest business level to those who hold one.
«MBA studies contribute significantly to building a strong network in the business community; benchmarking your own experience and capabilities with other ambitious managers, academics and experts; acquiring and sharing the latest approaches to current business challenges and refining management and leadership skills, he said. »
The MBA is for professionals with potential and who aspire to medium and top management positions. MBA programs are also of high value to entrepreneurs who wish to have the full range of modern management knowledge. Therefore, business schools look for professionals with over 3 years of professional experience in their preferred area of development.
MBA students are men and women committed to development and life-long learning, open to new ideas and challenges, team players, well organized, and internationally minded. Their average age is between 26 and 42, and average work experience is about 8-10 years. They come from very diverse educational and professional backgrounds including the finance, marketing, business. Humanities, social sciences, engineering, medicine and many more. 
Today, the number of schools offering on-line MBA programs is increasing. This is in response to a growing demand for distance learning opportunities as many candidates prefer to combine studies with their job responsibilities. This trend was very strong during the peak of the recent world financial crisis.
To know more about Access MBA tour, check their website: www.accessmba.com and register for the next one-to-one event in Switzerland (Geneva or, Zurich)or over 60 other locations worldwide.