The LIFT Conference is one of Europe's major annual events on innovation and digital technologies. This year's edition took place once again at the Geneva International Conference Center (CICG) last week.
LIFT Events have been taking place in Geneva since 2006, welcoming IT professionals and well-known speakers to two days of workshops in addition to the main conferences, and allowing innovative idea-makers to present themselves. Since 2006, the event has hosted over 15,000 participants from 40 countries in over 30 events.
The main objective of the event is to explore the implications of technological advancement on human life. As an IT security specialist, I was thrilled to see that 2016 edition's theme seemed to highlight security, as it has become a major topic for focus during the past few years.
Feb 10 – Day 1
The first day of the event was dedicated to preparations and the MassChallenge Startup Summit. The morning started with the Lift Prototyping Lab Kickoff, allowing participant teams to work with LIFT16 speakers and experts. The objective was to go from problem to prototype in just three days. It seemed impossible to discern who was in the lead when walking around the 2nd floor of the conference center, but it was quite colorful.
Wednesday afternoon belonged to the MassChallenge Startup Summit, which took place at Campus Biotech.  As a separate event envisioning a creative and inspired society in which everyone should recognize that they can define their future, the MassChallenge is an international accelerator event. Its purpose is to bring together startups with business and social leaders.
MassChallenge is a not-for-profit organization trying to help entrepreneurs across any industry. It organizes a competition, and rewards the highest-impact startups with equity-free cash awards. Besides Geneva, events are also held in Boston, London, Jerusalem and Mexico City. The Awards Ceremony for the Geneva event will be at the end of October.
Feb 11 – Day 2
Thursday was the real opening day of LIFT16. In contrast to the freezing cold outside, the Conference Center was full of warm, enthusiastic people; attendees grabbing their coffee and networking, speakers preparing their speeches, innovators presenting their project and answering curious questions, and of course organizers of the event helping people and facilitating meetings.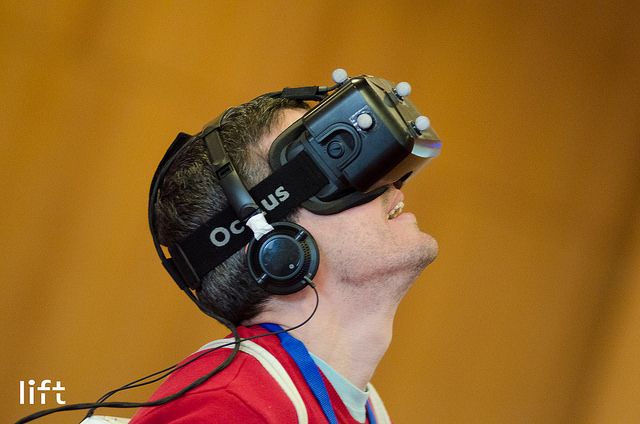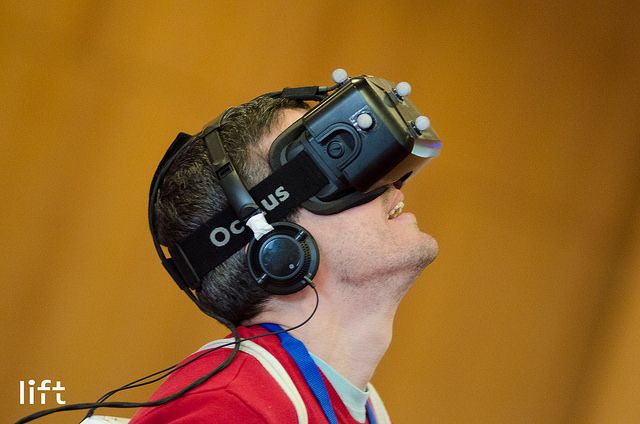 Abir Oreibi, CEO of the Lift Event and Member of the Jury of the Swiss ICT Awards gave the opening speech, setting the scene. She then handed the microphone over to the speakers of the Blockchain Technology Beyond Bitcoin presentation.
This conference was seeking the possible answers to the question of what lies beyond the trusted protocol that runs the most used decentralized cryptocurrency in the world, Bitcoin. The discussion centered not on Bitcoin, however, it was on the technology that makes it possible, the Blockchain. Conference speakers approached the subject from different angles. Joseph Lubin, Founder at Consensus Systems (ConsenSys) and Ethereum, talked about the blockchain's intervention for preparing the economy of the next generation, with decentralized applications. Stephan Tual, Founder of Slock.it & Ursium, and CCO of Ethereum, approached the subject by discussing the possibilities of applying Blockchains to the Internet of Things. Primavera De Filippi, a Researcher at CNRS and Faculty Associate at the Berkman Center at Harvard Law School, focused on how decentralized technologies can help us in designing new governance models.
After a lunch break, the day continued with a conference entitled The Wild Promises of the Digital Customer Experience. Its purpose was exploring the opportunities presented by the Internet and digital age, and how these shaped the consumer's life. It was especially inspiring to listen to Nadina Frehner, Head of Business Development at ShoeSize.Me, who reminded us how great innovative ideas can be so simple in essence.
The next conference was called Enter the Anti-Disciplinary Space. It brought designers, artists, technologists, and researchers together in order to discuss the necessity of different professions collaborating, as our world gets more and more complex each passing day.
Meanwhile, in parallel to the conferences on the main stage, breakout sessions were taking place inside the Conference Center. Organized in a more interactive and workshop-like manner, these sessions gave place to many interesting discussion on Thursday and Friday. A brief list of the breakout sessions can be found on the LIFT16 web site with descriptions.
LIFT16 didn't call it a day after the conferences and breakouts, but invited interested participants to a fondue night at Théâtre Pitoëff. For sure it was another challenge to serve fondue to over 300 people!
Feb 12 – Day 3
The last day of LIFT16 was focused on breakout sessions, but it had a few other highlights.
This conference-goer decided to start the day by attending a session by Stéphane Koch, Trainer, advisor and lecturer in Information Technology and Communication. By giving his seminar the title All your life and data belong to "US", he gave us a convincing reason to attend to the meeting. This session sought answers to three basic questions: What are the risks in the digital world? Against whom do we need to be protected (criminals, governments, competitors, all of them)? Then, how can we protect ourselves?  Supported with well-explained examples and figures, this was a very effective session for those who wanted to increase their digital security awareness.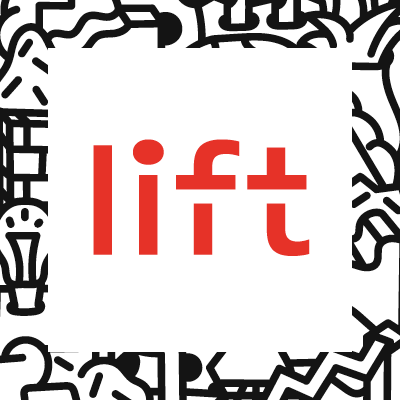 From more than a dozen breakout sessions, it was not an easy task to pick just one.  I finally decided to attend the session entitled User Freedom in the Digital Humanity Era. This was an interactive workshop that allowed people to participate in the flow of the session. After a short introduction, the participants were asked to express their feelings of security in the digital world. Then, working in groups, participants identified three major security concerns. After that, items written by different groups were categorized and analyzed in order to find solutions.
Besides these sessions, three main conferences took place on Friday. From Digital Transition to Ecological Resilience looked at ways of creating collaboration between technological and digital advancement and human development, from an environmental point of view. Artificial Intelligence, Technology without Alternative? focused on digital intelligence and the possibilities of putting it to maximum use.  The last one was Making Sense of Technology, which addressed how users and designers understand how the digital world behaves and creates meanings in society.
With even a closing party for the attendees on Friday night, LIFT16 was well organized and a very inspirational event, not only for technology enthusiasts but for everybody who has a stake in our digitalized word.
Photo credits: Ivo Naepflin via Flickr for Lift16, Baris Yeldiren

Formation:
Formez vous aux protocoles Blockchain grâce aux formations blockchain à Genève du Swiss Blockchain Institute.