An Arena for the Future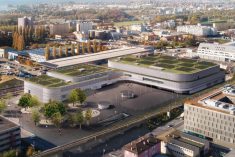 After two years of construction, there is now a light at the end of the tunnel for the Vaudoise Aréna in Lausanne. With the successful laying of ice on Tuesday, it appears that the arena will be ready for the Lausanne HC's season opener in September.
Beyond being the home of Lausanne HC, the grand multipurpose arena will also host local water sports teams, fencing and table tennis.
2020 Winter Youth Olympic Games and World Ice Hockey Championship
The decision to demolish the previous sports arena – La Patinoire de Malley – was taken after an agreement between the Municipalities of Lausanne, Prilly, Renens, Lausanne Region and the Council of State. The planned new larger and modern facilities were the centerpieces of Lausanne and Canton Vaud's bid for the 2020 Winter Youth Olympic Games. The ice rink is to be operational in September 2019, and the pool in 2021.
In spring 2020, the Vaudoise Arena will host the World Ice Hockey Championship, shared with Hallenstadion arena in Zurich. The seating capacity during the tournament will be reduced from its natural capacity of 9,600 seats to 8,500. Eight international teams in the tournament's Group A will play 28 games on the new rink.
New Investor, new name
The arena was not originally planned to be called Vaudoise, but rather the Espace Malley. In September last year, however, a naming agreement was made with the insurance company Vaudoise Assurances.
Beyond being the home of Lausanne HC and other sports teams, the site consists of an extended hospitality area with restaurants and bars, VIP areas and spectator boxes and several conference rooms.
This is an extraordinary entertainment and sports center that provides exciting facilities and new sporting opportunities for the region.
Sources:
https://en.wikipedia.org/wiki/2020_IIHF_World_Championship
https://fr.wikipedia.org/wiki/Patinoire_de_Malley
https://fr.wikipedia.org/wiki/Vaudoise_ar%C3%A9na
https://www.olympic.org/lausanne-2020
http://www.lausannehc.ch/vaudoise-arena/
https://swisshockeynews.ch/index.php/shn/11-swiss-ice-hockey/nla/15333-the-vaudoise-arena-will-be-ready-for-lhc-s-first-game
Image:
https://www.planetehockey.com/news-lausanne-de-la-nhl-a-la-future-vaudoise-arena,79125.html