Caucasus and Central Asia committed to restore over 2.5 million hectares of forest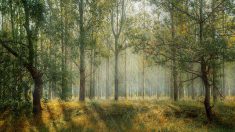 The Bonn Challenge is a global effort to restore 350 million hectares of degraded and deforested land around the world by 2030.
It was launched in 2011 by Germany and the International Union for Conservation of Nature (IUCN).
Armenia, Georgia, Kazakhstan, Kyrgyzstan, Tajikistan, and Uzbekistan have made a pledge to restore over 2.5 million hectares of forest under the guise of the Bonn Challenge. This commitment was made during the first Ministerial Roundtable on Forest Landscape Restoration, held on 21-22 June in Astana, Kazakhstan.
This is not the first forest restoration project in the region. Kazakhstan, for example, established a forested area of some 83,000 hectares, which will increase to 100,000 hectares by 2021.
Further afield, similar projects have also been implemented. For example, the 'Billion Tree Tsunami' project has seen a total of 300 million trees and 42 different species planted across Pakistan's Khyber Pakhtunkhwa.
These initiatives are part of a wide range of measures aimed at tackling deforestation. Other examples include entities such as the United States, Europe and Australia introduction regulations to combat imports of illegally logged lumber through systems of certification.
The consequences of deforestation are far-reaching and can have an impact on mental health, ecological biodiversity, groundwater levels, and the frequency and intensity of floods and mudslides.
Sources:
https://www.aljazeera.com/news/2018/06/gold-pakistan-plants-hundreds-millions-trees-180626095806407.html
https://www.unece.org/?id=48965
http://www.bonnchallenge.org/content/challenge
https://science.howstuffworks.com/environmental/green-science/deforestation2.htm
https://www.pachamama.org/effects-of-deforestation
Photo credit : valiunic via pixabay.com