The Chinese calendar is `x´ years old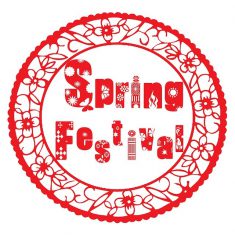 Unlike most other calendars that have an infinite sequence of numbers, the Chinese calendar names each year after one of twelve animals, each of them subdivided into five elements; wood, fire, earth, metal and water. The name of the year repeats every 60 years. As a result, there is no precise date for the calendar's origins as there is, for example, with the Gregorian calendar.
Legend has it that the Chinese calendar, which is based on precise solar and lunar cycles, was invented by Emperor Huangdi 4655 to 4715 years ago. This coming New Year marks the beginning of the year of the 'Earth Dog'. The name of the year is also used as the name of the zodiac sign for people born in that year.
Also known as the Spring Festival or Luna New Year, celebration falls on February 16 this year. It is the most important holiday in China and is traditionally a time to honour ancestors. All of China goes on holiday during the three-week long festival with people taking anything from a week to a month off from work.
Hundreds of millions return to their home towns or villages during this time, making the migration of the Chinese people the world's largest human event with three billion trips being made. With most people choosing to travel by land, traffic reaches a virtual standstill in what has become known as "the great crawl of China."
Spring Festival celebrations
Traditions vary widely from region to region but most people will eat a "Huoguo" (Chinese fondue or hotpot) that consists of vegetables simmered in broth. Meat and dumplings and then cooked in the broth. Egg dumplings, notoriously difficult to prepare, are often included in New Year hotpot meals as a symbol of prosperity. They consist of meat or vegetable paste wrapped in thin egg crepes.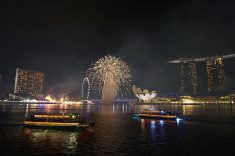 Another popular culinary tradition is eating a whole fish. For those wishing for a prosperous year, catfish is popular because the Chinese pronunciation sounds the same as the word for 'surplus', and carp is also very popular for similar reasons.
Hongbao, a decorative red envelope containing money, is the most widely known tradition at this time of year. Red is associated with good luck and is believed to ward off evil spirits. The amount of money in the red envelope is always an even digit sum since uneven digit monetary gifts are associated with funerals. Red envelopes are usually given by married couples to single people regardless of age.
The Chinese greeting can also differ from region and language. Most Mandarins speakers would use 'Xin Nian Kuai Le,' which is a simple yet formal 'Happy New Year'. Cantonese speakers often use 'Gong Hei Fat Choy!'  which literally translates to 'I wish you a prosperous new year', a sentiment that GBN echoes to all its readers.
Sources: Wikipedia, thesun.co.uk, dailymail.co.uk
Photo: Pixabay @ZBEISI, @trf57