A snapshot of the diverse talent of GBN's contributors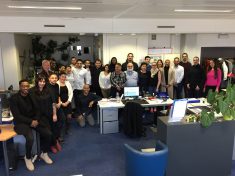 We would like to wish all our valued readers our Seasons Greetings for the end of 2017.
The staff at GBN have had a full year covering a wide range of issues and subjects, internationally and locally, including economics and employment, culture and society, portraits, science and technology and the ever-popular numbers of the week.
We have been fortunate again this year to have a variety of talented professionals from a wide range of fields coming through our doors energizing the office and developing interesting and thoughtful content.
We cannot mention all our accomplished writers, but some of our highlights this year include a comprehensive and engaging series of articles by Virginia Malembe on using LinkedIn to optimize your profile and expand your network, Jean-Pierre Asensio's fascinating financial briefs, Amanda Spierings broadens our appeal with a bit of culture and arts, practical information on event planning by Cedric Fedele, and procurement from Anne-Sophie Schweitzer.
This is just a snapshot of the diverse talent of GBN's contributors. We encourage you to take time to explore everything our site offers.
Next year, GBN will be 10 years old. Come back and visit us often for news on how we will be celebrating this achievement, or click on the follow button below.
We wish you the very best for 2018, and all the opportunities that the year will bring.
GBN Editorial Team