Factory 17: Magic Happens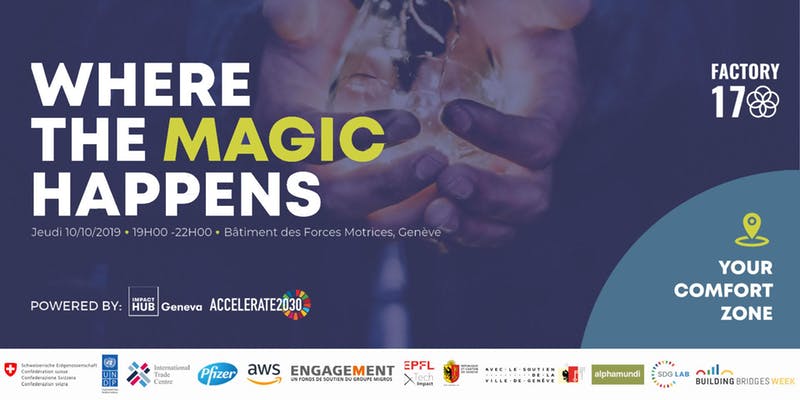 Geneva has long been known as the global centre for finance, commodity trading and diplomacy (due to the presence of the hundreds of international organisations). But the city is starting to make a name for itself as a hub for entrepreneurs, intrapreneurs, innovators and disruptors in the field of positive change, in line with the UN's Sustainable Development Goals (SDGs).
In that vein, Impact Hub Geneva is organising, through its Accelerate 2030 entrepreneurial scaling programme, a unique event this Thursday 10 October. Bringing together the top Accelerate 2030 entrepreneurs from Africa, Asia, Latin America and Eastern Europe – alongside some of Geneva's visionaries, disruptors and change makers – Factory17 (as the name hints) is all about taking action towards achieving the 17 SDGs, such as Climate Action; Sustainable Cities and Communities; Life On Land and Below Water, to name just a few.
It is also about the 17 stages of Joseph Campbell's Monomyth/Hero's Journey model – aka the more modern and high powerful story-telling communication technique – with which speakers will share their inspiring personal stories. From pulling through the lows and troughs, the fears and discomforts, the temptations and distractions, to eventually morphing into their better selves and achieving a new, sustainable future for their businesses, and in these particular cases, for us all too.
With key speakers including Davor Kosanic of EPFL and Reconnect Foundation, and Thomas Vellacott, General Director of WWF Switzerland, the evening promises to give Geneva a new accolade as lead actor on the global, sustainability scene.
For more info: https://www.factory17.ch/
To register: https://www.eventbrite.co.uk/e/factory17-where-the-magic-happens-tickets-73238966721