Here we go again!

While Geneva will reach temperatures in the high twenties this weekend with many people still enjoying the beach and spending time at the lake, others are gathering inside an ice hockey rink impatiently awaiting the start of the hockey season.
With 35 days until the regular season of the Swiss Ice Hockey National League (NL) kicks off, Genève-Servette HC is starting their preparations for the championship.
The team had their first practice on ice earlier this week and tonight at 19.00 they are facing off against Sierre HC in the first of several pre-season games.
Hockeyades Vallée de Joux
Next week, 12 -17 August, the 24th edition of the Hockeyades is taking place in Vallée de Joux and per tradition, Genève-Servette HC is participating this year. Servette will start the friendly preseason tournament on Tuesday against HK Ardo Nitra, a visiting team from Slovakia, and take on the Russian team CSKA Moscou on Thursday.
New head coach
The well-known and ever so popular coach Chris McSorley has taken a step back as head coach this year and will focus entirely on the role of Sports Director.
His replacement is promising coach Patrick Emond who was recruited from Genève-Servette HC's Junior Elite team. Emond was head coach for the junior elite team for eleven seasons and led them to two consecutive Elite Jr. A Championship victories in 2018 and 2019 before being promoted.
Stay tuned for more information on the preseason developments for Genève Servette HC in the coming weeks.
To all the Grenat fans out there… "Ensemble, toujours!"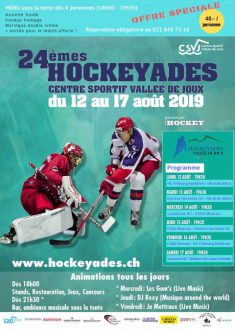 Sources:
Les Aigles de retour sur la glace, Genève-Servette HC
Patrick Emond at Elitiesports
Images: