How do you find the right person to send your unsolicited application to?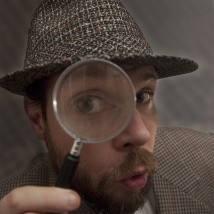 70%, 80%…even 85%. Although the numbers vary, what everyone does seem to agree about is that the hidden job market, made up of those positions which are never advertised but are out there, represents a huge opportunity for job seekers.
So, you take your time and prepare the perfect CV and covering letter. However, if you don't send your application to the right person, it risks falling into the abyss which is your target company's email system. The challenge then is to find the right person –and his or her contact details!
There are databases which exist, according to Eric Montillon, founder of the Paris-based outplacement firm Human First, but they cost a fortune and are not necessarily accessible to private individuals. This is why you should do some market research to identify THE person in your target company who could be interested in what you have to offer….and this isn't necessarily someone in HR either. Rather, it could be someone actually working in your field, such as the Head of Administration, or the person in charge of a unit.
To find these people then, there are several options open to you including: investigating the company website,  doing a search of the professional social networks, using a search engine or working the traditional networks.
Analyse the company website
The company website can be a goldmine of information. For example, some very helpfully have an organigram, or organizational chart. If this doesn't contain the contact details for the person you are looking for, go to the sections marked 'about us' or 'contact' to find the number for the main switchboard.
Once you have this, you have two options, says Amaury Montmoreau, co-founder of the recruitment agency Aj-job :
– One, dial the main switchboard number but change the last two digits. You can then ask whoever answers the phone to put you through to Mr, Mrs or Ms X.
– Two, dial the main switchboard and ask to speak to someone in the accounts department about a billing problem. Once you've been connected, tell the person on the other end of the line that you have been put through to the wrong number as you wanted to speak to Mr, Mrs or Ms X. Hey presto, with any luck, you'll be transferred to the right person!
Whatever the case, if you can't speak to the person you want to there and then, ask to be given their fixed/mobile number and email address.
Other good sources of information are the 'Press' and 'News' sections. Look for the email address for the Press Officer or Head of Communication and then use that as a model to email your target person directly.
Trawl the professional social networks
Twitter, LinkedIn, Xing…all of the professional social networks allow you to search for people working in your target company. Once you've found someone, if you think it's worth your while sending your unsolicited application to them, two alternatives present themselves:
– The first is inviting the employee to join your network, though remember to personalise the standard invitation to increase the chance of having it accepted. Then, if they accept, you'll have their contact information.
– The second is to send them a message directly. You won't have their details, but they will have yours. Then, of course, it's up to them if they follow up with you or not…which is why, it's so important that you specifically tailor your application to each and every company you approach (see below).
Get out there
Job fairs, job and sector-specific conferences, trade fairs….and not forgetting ex-colleagues and ex-classmates…..all of these could help get you face to face with a potential recruiter so you can show them who you are, ask for a business card and then send that unsolicited application.
Google away
Another way of finding the contact details for THE person you manage to find through the company organigram, social networks or your own networking is to type their full name into a search engine along with the terms mail or contact (you can also try putting the whole search within double quotation marks, eg, "John Smith contact"). With a bit of luck, the person will have left their telephone number or email address on a document or in a forum somewhere on the internet.
According to Amaury Montmoreau, if nothing turns up using this method, by typing "@ company name" you should find an email address for the company you want, for example, @ Geneva Business News. Copy the address format adding the family name plus first name, or initial plus family name, or first name@xxx.fr  and you should get the email address for the person you want.
How do you make someone reply to your unsolicited application?
Of course, just sending your unsolicited application to the right person isn't going to get them to invite you for a job interview.  When you make a direct approach to a company, the key is to identify a problem they face and then make them aware of it, says Eric Montillon. Analyse the issue and then use your covering letter to show that you understand it and have the ideas and the desire to tackle it. Demonstrate that you have the skills and expertise now to resolve the problem once you work together.
Editor's note: This article is a translation-adaptation of "Candidature spontanée : comment trouver la bonne personne à qui l'envoyer ?", by Sylvie Laidet and Elodie Buzaud, Cadremploi.fr, April 21,
Photo credit: Paurian on Flickr, CC 2.0