How to improve back office efficiency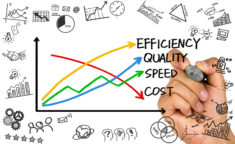 Find out how the efficiency of the back office improves the performance of all parts of a company
The importance of the back office
The back office is where customer needs and requests are met; that's where the magic happens.
The back office acts as the backbone of a company. It does important work behind the scenes, such as accounting, human resources, payroll, marketing, and administrative support. One of its roles is to improve the customer experience and support administrative functions. This work directly impacts what you can deliver to your customers.
The back office is the driving force behind revenue and customer satisfaction.
Many companies globally have invested heavily in simplifying and improving their back office operations to focus on customer satisfaction.
How can a company increase, therefore, the efficiency of the back office and operations, thereby gaining a competitive advantage?
Here are five points to follow to improve the functioning of the back office.
Know your customers and staff
First, determine what your customers' demands are. Additionally, ask which back office operations can be improved to improve the customer experience.
Research trends, analyze data, and find out what your customers value as an experience. Once you have behavior data and information about customer needs, you can customize your services to meet their expectations.
A good customer experience – by improving your company's internal processes – is critical to building a strong brand image and generating growth.
Take the example of customer orders. Ask how they can most effectively be processed, which skills and resources are needed to carry them out better, as well as completion times. Discover where can improvements be made.
Finally, get to know the characteristics and skills of your people in the back office. Build on your strengths and work on your weaknesses.
The more you know your team's skills and aptitudes, the more you can benefit from their talents, establishing a new routine that works for both the company and your team.
How? Be in constant contact with your back office team. Get to know your concerns and challenges about the work you are doing. Help them by providing the necessary tools to overcome obstacles and thus perform their work with excellence. One of the best ways to do this is actually to ask them for suggestions on how to improve services.
Optimizing the tasks
Companies often create procedures that are too bureaucratic without adding value to the customer nor the company. Identify these procedures that only add to the workload of your back office staff.
Companies should also experiment with different processes and systems to improve efficiencies.
The point is that it is important for your team to recognize and focus on tasks that really add value to the business.
Increasing automation
Always be aware of new technologies. For example, repetitive and unimportant tasks should be automated. Additionally, you can substitute paper usage by cutting down on bulky documents and filing systems in your office. This not only saves time but also has a positive impact on issues relating to the sustainable development of the planet.
Other areas to focus on include:
using online functions like cloud-based software
investing in advance payroll systems
optimizing document storage systems, and
using available technologies to increase your workflow efficiently and effectively.
Remember that people can make mistakes, which is normal. Automating your processes, however, can help reduce errors and save time.
Using standardization
When new procedures are integrated, invest in standardization. In this way, the time spent on specific tasks can be precisely defined, allowing productivity and efficiency to be easily measured.
This assessment should be ongoing so that you identify if the process is still working effectively or needs updating.
For example, making sure something as simple as using the same form across departments to register information mitigates mistakes, and provides greater clarity to operations.
Constantly evaluate
Valuation is an integral part of any business; check if what works now will work in the future and constantly ask what can be improved. Aim high so that your customers receive constant good and improving service.
They always want to follow the trends of what is being consumed by society. And as they demand change, you have to be on the lookout for updates to your service. This is why regular evaluation and continuous improvement are necessary and effective to keep your company at the top and always one step ahead of your competitors.
And if something fails or you deem it more appropriate and more beneficial to your strategy to give up certain back office procedures than invest in improving the efficiency of your internal tasks, there is the possibility of outsourcing these services. So you can direct focus and resources to other functions in your business.
Further reading:
Improving operations management – how efficient is your back office from both an internal and a customer perspective?, DHP
Improve Back Office Efficiency with These 5 Tips, AsiaPremierbpo
Further articles by Guilherme Santos Saraiva:
Outsourcing: Advantages and disadvantages
The Back Office: What it does and where it is going
Interview: The challenges for financial market technologies
Image: Photo 56275348 © Cacaroot | Dreamstime.com