How to Prepare for an Interview
Interviews can be scary. When you think about it, that is normal. An interview takes a person right out of his or her comfort zone.
It seems that no matter how confident a person is, interview stress can affect pretty much everyone, to some degree.
Let's take a look at how to make the interview process as pain-free as possible.
The meaning and purpose of an interview
The fact that you have been invited for an interview is a good sign. The recruiter clearly sees you have some, if not all, of the attributes required for the vacancy. Therefore, the interview itself is your way of highlighting your skills and experience, and selling yourself in ways a CV cannot…face to face. With this in mind, think positively and get ready for the interview.
The success of your interview starts before you enter the interviewing room.
Before the interview
Research – The company / industry, job role and the interviewer(s)
Knowledge is power. You should have a clear understanding of the employer, the requirements expected for the position, and the background of the people conducting the interview. The more information you find out, the easier it will be to get an idea about the company and be able to answer questions.
Try to find out as much as possible. Many companies ask the questions "What do you know about our company? / What is your understanding of the role?" Make sure you are able to answer these questions with ease.
Companies want to feel you have an interest in them and the role. If you do not do your research, it shows a lack of interest. It can also make you appear a little desperate to get a job and show that you do not really care about which company you work for.
Taking a look at the interviewers' career path also gives you an idea of how they progressed and got to where they are now. This is useful to give an idea of the types of people and experience the company looks for in their employees.
Know your CV/Work History by heart
It is more than likely that you will be asked to briefly explain your CV/work history. Be prepared by having a short, concise summary that gives the interviewer an overview of your career to date. That way, they can see how your career developed and how you got to where you are now –namely, applying for this position at their company.
If possible, try to find out the type of interview you should expect. Will you be meeting with just one person or several? Ask the hiring manager/recruiter while you are setting up the interview. Then take the time to prepare responses to questions likely to be asked.
Your goal is to prepare answers that are detailed yet concise, and that also highlight specific accomplishments and skills.  Using the "STAR" approach to structure your answers can make this task easier.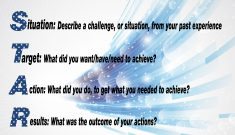 Also prepare for problematic questions, such as gaps in employment and reasons you left a specific company.
Prepare some questions to ask at the end of the interview
You will always be asked if you have any questions at the end of an interview. Many people just smile and politely say "no".
ALWAYS ask questions at the end.  This is your time to find out all you want to know about the company, the way they work, the role and the department you will be joining. Why would you not want to know absolutely everything? After all, if you are successful you may be offered the role, and do you really want to accept a role without knowing all you can?
Finally, here are few more pointers for the night before:
Prepare your outfit beforehand: Dress appropriately, meaning a smart suit, clean shoes, making sure you are clean-shaven, have good hygiene, neatly combed hair…
Plan your journey: Aim to arrive well in advance of the interview, so know your bus connections, know if there will be rush-hour traffic, etc.
Relax and get an early night: you want to make your best impression, so be rested.
At the interview
First impressions are so important when going for an interview. Most first impressions are formed within three seconds of meeting someone for the first time. Therefore, how you come across as soon as you arrive at the office of your potential future employer is just as important, if not more so, than what actually comes out of your mouth.
Break the ice: First of all, be polite and professional with any members of staff you meet prior or after the interview.
Secondly, one of the most important aspects of your interview on which you will be judged is your body language: 
"Body Language is a very powerful tool. We had body language before we had speech and apparently, 80% of what you understand in a conversation is read through the body, not the words"  (Deborah Bull)
Non-verbal Communication
Non-verbal communication includes pitch, speed, tone and volume of voice, gestures and facial expressions, body posture, stance, and proximity to the listener, eye movements and contact, and dress and appearance.
Handshake: The handshake is a bit like the nursery rhyme "Goldilocks and the three bears": one bowl of porridge was too hot, one was too cold and one was just right. The same can be said for the handshake: if you offer a limp, floppy hand, it could give off weak vibes in terms of your character. If you give a hand crushing, power grip, it may come across that you are someone who is too overpowering or intense.
Posture: Relax and sit/stand tall without slouching or leaning on the desk. Try to avoid over-using your hands or fidgeting.
Active Listening: Nod in agreement, keep facial expressions relaxed, smile, and maintain eye contact.
Body language is all about balance. You want to adopt a neutral stance during an interview to come across as attentive yet relaxed, so do not overdo or underdo any gestures.
Other dos and don'ts
Do be aware of your voice and tone. It is really hard to capture someone's attention if you speak in a monotone or with lack of emotion. The easiest way to improve your tone is to smile while talking, it instantly livens up your voice.
Do be confident. Believe in your experience and what you have to offer. Be enthusiastic and answer in a positive, upbeat way. Answer questions clearly and concisely.
Do show personality. It is important to not only highlight your skills and experience during an interview, but also to show a bit of your personality. You could be the perfect fit for a role, but if your personality and style of working is totally different to how the company works, it may not be the right fit.
Do take a notebook and paper into the interview. Taking notes, even if it might seem old-fashioned, shows you are interested and listening.
Don't appear desperate. Yes, you may desperately need a job, but the employer doesn't need to hear that.
Do remain professional. Avoid speaking about personal issues, and most definitely don't bad-mouth past employers.
Don't bring anything distracting into the room. It may be a no-brainer, but no drinks or food, turn off your mobile phone and never answer a call in the middle of an interview.
Do listen and don't speak too much.
Don't lose interest. Sometimes during an interview, you may realise that the role is not for you. Treat each interview like it is for a job you really want. It is good experience, and who knows, it may lead to something else.
After the interview
Always send a follow-up email thanking the interviewer for their time and showing your interest in the company and role.
It is so easy, and totally normal, to feel anxious prior to and during an interview. Try to relax with some deep breathing and think of an interview as a two-way street. Yes, they are interviewing you, but an interview is your chance to find out more about the company, its work ethic and the role itself.
Keep this in mind: "Why would I want to work for this company?" They should also be selling the company, the role and the opportunity to you. If you look at an interview in this way, it should help you to relax a little more.
Credits: Matundu Mavungu (Illustration) ; Nadia Queudeville (Star)