Is Sugar the new scandal of the 21st century?

This hypothesis was explored in a May, 2016 Report in Le Temps, 'Sucre et tabac, même combat.' ('Sugar and tobacco, same battle') by Servan Peca. In his article, Mr Peca highlights similarities between the two industries, including:
Lack of transparency
Complicated distribution networks
Disparate regulations
The link between diseases such as diabetes, cancers, heart disease, obesity and other ailments which are not fully accepted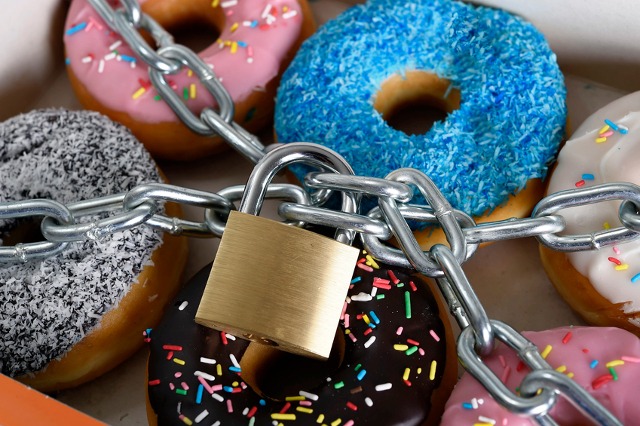 In April 2016, the Mars corporation, (producers of Dolmio and Uncle Ben's sauces and snackpots), released a statement advising consumers that they should not eat their 'savoury' products more than once a week due to the health risk posed by high sugar, fat and salt content.
Food producers are especially aware of the addictiveness of sugar, often exploiting the 'bliss point' (amount of an ingredient such as salt, sugar, or fat which optimizes palatability) when creating new products. Therefore, with regards to the point made between product use and disease, do food producers need to set aside provisions against the day that a causal link between these diseases and sugar could finally be proven without a doubt?
In the tobacco industry, a widow in the US won a lawsuit in 2014 of $23.6 billion against R.J. Reynolds, citing that the company was aware that cigarettes were addictive and caused lung cancer.  Although this amount was later reduced to $17 million, it seems to have opened the door for more cases. Reuters reported in 2015 that tobacco companies had provisions for at least $100 million.
Reactions in the Food Production Industry?
It is important to note that the reason Mars could issue such a damning statement is that is not traded on the stock market: although the statement could have provoked a fall in sales, there would be no major drop in company valuation as we would see with a publicly traded company. Additionally, being seen as proactive could create a positive perception of Mars.
However, for the publicly traded companies, it is unlikely that they would make such announcements or make information on legislation accruals available to the public, fearing a loss in company value and a potential opening of the door to claims.
Instead, the industry is reacting by investing in healthier products to protect their market share when the public, hopefully, begin to change their habits en masse:
Coca-Cola bought the 'Innocent' fruit drink business in 2013.
Nestlé Health Science, and healthcare group Chi-Med, have agreed to form a 50/50 joint venture to be named Nutrition Science Partners Limited (NSP). Since 2014, this group has been responsible for researching, developing, manufacturing and marketing innovative nutritional and medicinal products derived from botanical plants.
Danone bought health-focused WhiteWave Foods at the beginning of July 2016.
Despite these moves in a positive direction, in parallel, the 'giants' in the sector such as Coca-Cola, PepsiCo, Danone, Nestle, and McDonald's in the US are not giving up quite yet. They are still lobbying against the sugar taxes whilst funding studies to promote a positive side of their products.
Changing Habits
Still, the 'arguments' against sugar are growing. In his article, Servan Peca references the 2015 Report by Morgan Stanley, 'Sugar Economics: How Sweet It Isn't', which predicts that global growth will suffer in line with the increase in sugar consumption.
But how quickly will our habits change? Are people aware of how much sugar they are actually consuming? 'But I don't eat sugar' is the usual response when the subject is raised. This belief is probably true, but the reality could look quite different.
In regards to government-issued food pyramids and guidelines, some advocate that sugar should be consumed in moderation. However, this advice does not seem to take into account that a vast majority of foodstuffs contain hidden sugar. Often, this is disguised in words ending with 'ose':
Dairy e.g. Yoghurt- added milk solids: lactose and fruit, fructose
Cured and cooked meats: glucose, lactose
Smoked fish and prawns: glucose, lactose
Breads: maltose or sugar
Fruit juice is included in some pyramid guidelines as fruit. This can be problematic on 3 accounts:
It can contain added sugar, fructose and sometimes artificial sweeteners
As it is not being consumed as a whole fruit, you do not have the fibre to balance out the fructose which leads to spikes in blood sugar levels
Unless freshly squeezed, the nutrients oxidize, thus you lose the potential benefits as compared with the whole fruit.
Thus, not only are we consuming sugar inadvertently, our busy lifestyles and addictions results in us reaching for pre-prepared foods. These unfortunately contain refined complex carbohydrates, (often with added sugar), such as white bread, croissants, pasta, and pizza. These refined products can cause sugar spikes in the blood in a similar way to sugar due to the lack of fibre.
As referenced above, the statement by Mars advising to limit their savoury products to no more than once a week has sparked further investigations by the UK online newspaper, The Daily Mail.  This survey found that even supposedly-healthy Weight Watchers sauces contained high levels of sugar.
The announcement from Mars could be seen as another illustration that the food giants are under pressure. Finally they are taking action to help head off the global obesity crisis which is increasing hand in hand with type 2 diabetes and heart disease, to name but a few symptoms.
Much achieved but much to do
We therefore have some really positive news. However, given the array of potential ailments, we need to consider:
Is enough being done to educate people and create a food network which can provide healthy, convenient food?
Is it being done fast enough? As mentioned in my previous article, Challenging the Traditional Food Pyramid, the MOU between the Swiss Government and 10 major food distributors to reduce sugar is voluntary with a timeline of four years.
It thus appears, at the moment, that it is industry and banking who are leading the way, not governments or healthcare professionals. Is this a genuine interest in our health or is it an attempt to mitigate the risk of impending lawsuits?
Sources:
May, 2016 Le Temps, 'Sucre et tabac, même combat.' by Servan PecaEco
14-05-2015 Report by Morgan Stanley, Sugar Economics: How Sweet It Isn't
04-08-2015 MOU (Memorandum of Understanding) signed between OSAV and large producers and distributors to reduce sugar¨
Photo credit: OcusFocus via iStock.com (licence standard)