Job Profile: Management Officer at an International Organization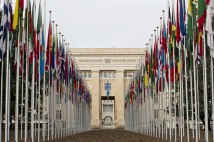 A management officer oversees support operations of a business or organization. He or she must not only be detail-oriented enough to keep track of all of the day-to-day operations of a major international organization, but must also have strong analytical skills and the ability to work with many different types of people.
We had the opportunity sit down with a management officer working for an international organization that focuses on Millennium Development Goals (MDGs) 4, 5 and 6* in developing countries. During our interview, we were able to understand what a management officer's career path might look like and the structure of a major international organization, as well as the profile, skills and experience necessary for working in an international organization.
Can you tell us a bit about how you became a Management Officer? What were the main motivations that drove you to join an international organization?
When looking for a job, some people systematically search to identify potential companies for which they would like to work. For others, it is simply a combination of events. I joined by accident: it was neither planned nor ambition.
What experiences helped you to get where you are now?
Although I had no specific public health background, my initial IT-related training proved very useful, since it involved mathematics and logic. The ability to analyze and to structure was critical for taking the job forward, particularly at management level, since you need to listen to people and respond to their needs.
What is your role as Management Officer?
I serve as the interface between the senior management and technical departments of the organization. The role of the management team is therefore to provide support for administration and finance, including contract management, staffing, and budget issues. The main objectives are to ensure that the requirements for the technical departments, essentially in terms of financial and human resources (both professional and general staff), are made available for effective implementation of priority programmes, thereby ensuring that expected outcomes are achieved.
What are the main skills or qualities that someone in your position should have?
As my main role is about responding to the needs of the technical teams, listening skills are critical. In most cases, required resources are not always available for the departments to achieve their objectives. In this situation, a management officer needs to have negotiation skills if an agreement is to be reached. For instance, on one hand, I have to convince the technical teams that they need to do more with less; on the other hand, I should be able to explain to the senior management why I think a specific request is justified and needs to be supported.
The objective here is to look for solutions from both sides. The challenge of the job is to understand what all technical departments are doing: I need to know from the top level the strategic budgeting all the way down to the office space needs. The range of responsibilities can be from very high level, like drafting a memo to the senior management to explain a specific issue, all the way to fixing a problem because two people are fighting for office space. Sometimes I have to be a "jack of all trades".
It's also very useful to stay up-to-date with technical programs because that is the main line of the business. In different departments, they are so wide-ranging that I have to constantly read a lot. I cannot be an expert in what they do, but I need to familiarise myself with their business. That is how analytical and structural skills come in.
Can you give me a general overview of how the Finance section works within the institution? How is it structured?
I am attached to a group of departments, and each department is headed by a director. Below the director, there is always a program manager, a finance officer and a human resources focal point. All of these departments report to their senior managers. I also play a role in supervising the finance officers to coordinate the consolidated financial reporting for the group of departments. This becomes much easier if we all apply the same methods of work.
What are the services provided and interactions within the group and with other departments?
It is more of a high-level managerial role rather than dealing strictly with finance. This is done either by a finance officer or a finance assistant working in the department. The departments have delegation of authority. For example, for expenditures below USD 200,000, they can decide on their own. However, when an expenditure exceeds USD 200,000, it must be approved by senior management. This is a control measure that ensures that required procedures are followed at all levels.
What are the profiles, skills sets and experience required to work in the finance section?
For the last 4 years, all UN agencies have adopted a new standard called International Public Sector Accounting System (IPSAS). It is geared towards the public sector, so it is different from the private sector. Increasingly, new staff working in the finance section is required to have a degree in accounting. They are either chartered accountants or certified public accountants (CPAs) with training and experience in IPSAS.
How different is the work of the finance team members in your organization from that in other United Nations organizations?
What my counterparts do in other United Nations agencies is basically the same. When a finance officer moves from one agency to another, it does not take long to familiarize him or herself with the management system since they all use the UN common system, including IPSAS.
What are the current and future needs that you see?
Compared to early 2000, the employment trend has been heading downward due to various factors. Since 2008, the global financial crisis has seriously affected multilateral organizations, since donor countries were not able to provide funding as expected. Productivity worldwide has increased greatly, thanks in a large part to computers. On the other hand, organizational business now requires much less labour and less support staff. In addition, there is a major trend of "Business Process Outsourcing" (BPO) for most agencies, with the goal of improving efficiency. By so doing, repetitive and labour-intensive activities, such as payroll, payments of invoices, billings, receivables, contracts and entitlements, are shipped to low cost areas (e.g. some Asian countries). As a result, the headquarters (high cost areas) have limited employment opportunities.
What advice would you give to people who wish to work for UN agencies in their finance sections?
I would advise young professionals not to start their career at headquarters, but rather start at a country or a regional level. This is where you learn the reality of life of this world. If you start your career in Geneva for instance, your career is likely to stagnate, with a lot of frustration. If you start in the field, you bring experience with you, specific sensitivity that is very useful. People who did not start in the regional or country office base their work on assumptions that everything works. The field experience is not taught in schools as such. Today, young professionals want to jump up a career ladder for rapid progress. However, I feel that the most effective leaders in many UN organizations are those who have started at the bottom and have actually lived and experienced life in the field.
* The health-related Millennium Development Goals are MDGs 4, 5 and 6: to reduce child mortality, to improve maternal health and to combat HIV/AIDS, tuberculosis and malaria.
Sources
http://www.wisegeek.com/what-does-an-administrative-manager-do.htm
Photo credit: lilivanili via photopin cc