Professional sportsmen and athletes constantly strive for positive results, outstanding performances and of course, new records. This year in November, the organizers of the sport.forum.schweiz 2013 in Lucerne, Switzerland's biggest and most-known sports business meeting, can proudly claim having achieved a new milestone in the history of this series of annual events:
"The ESB Europäische Sponsoring-Börse , as the official host of the sport.forum.schweiz, is very pleased with the fact that the number of participants has increased from roughly 450 last year to 560 this year – a new attendance record! For us, this is clearly an indication that the sports business sector in Switzerland is eager to become more and more professionalized," said Fabian Weber, Head of Marketing & Communications at ESB based in St. Gallen.
Participants from different backgrounds
The 19th edition of the sport.forum.schweiz hosted at the Kultur- & Kongresszentrum Luzern (KKL) was rich in participants from various backgrounds: representatives from major organisations, such as FIFA and YouTube with global influence and reach, as well as more domestic or even more local interests and goals, like Swiss Unihockey and Geneva Marathon. According to Philipp Stucki, Head of Finance from Swiss Canoe in Zurich, one of the reasons to be present at this annual get-together is the networking:"The possibility to network with all kinds of people linked to the sports industry is just great! I want to find out more about how big organisations manage their business, tackle problems and promote their objectives. Maybe this knowledge can be transferred to Swiss Canoe? Sharing ideas and views with other sports clubs or institutions comparable to us is also quite valuable."
Ideas and inspiration galore
The program presented on the main stage over the first day of the event offered topics and presentations from renowned speakers. Pascal Schulte, Director of Sales for Germany and Switzerland at Repucom (formerly known as Sport+Markt), kicked-off this year's business meeting with interesting facts and figures in relation to sports business in Switzerland. For example, LED banners, used by professional football leagues all over the world for years, have been implemented in Swiss football stadiums just prior to the campaign for 2012/13. He also presented a study conducted by Repucom in Switzerland, in which only 7% of those questioned were able to assign main sponsors to the corresponding football club. So apparently, there is still room to establish a stronger relationship between sponsors and sports clubs which, in return, might lead to a higher public awareness.
One main stage highlight was Mr. Bernhard Heusler, President of Swiss football club FC Basel, who talked about leadership at his club and shared his views concerning football business in general. He stressed that football players are responsible for the image and economic efficiency of a club. He also revealed a remarkable statistic: the average number of spectators per game at FC Basel, nearly 30,000 spectators, is higher than the average number of spectators per game in Italy or Spain.
Special Forums: Two well-known, three newcomers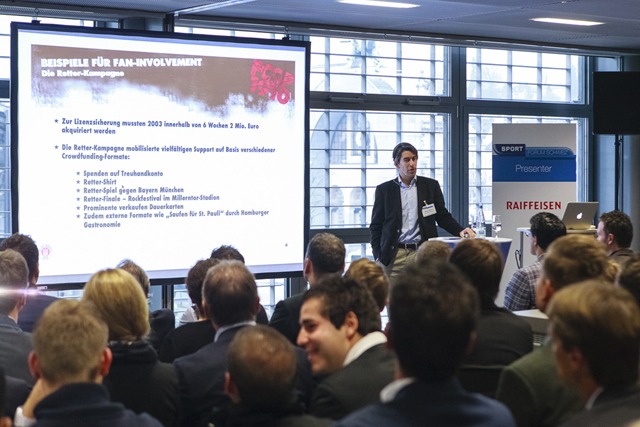 Besides other topics and top-quality speakers on the main stage, such as Walter de Gregorio, Director of Communications and Public Affairs at FIFA, sport.forum.schweiz 2013 presented five special forums which aimed at presenting latest trends, developments and issues of high importance for the Swiss sports industry and its protagonists. Like last year, the ESB Europäische Sponsoring-Börse offered the media.forum. Topics like "Sports on YouTube – Engaging with your fans through video" and "SC Bern – Digital Powerplay" showed clearly that the online sector, especially social media is a must for clubs who wish to increase their fan base, and even for individuals.
The responsibility.forum was once again on the agenda, with an emphasis on sustainability and the organisation of sports events. For example, Frank Hofer, Director Eidgenössisches Turnfest Biel (ETB), stated that 96% out of 60 000 athletes used public transportation to get to Biel. This proves that the size of a major sports event like the Eidgenössisches Turnfest, with 200,000 visitors, is not a limiting factor for organizing an event in a sustainable way.
Additionally, three new special forums were presented by qualified experts. The newly-added crm.sourcing.forum  focused on fundraising and crowdfunding in Switzerland. I believe in you, a crowdfunding online platform founded by Mike Kurt (3-time Olympic competitor, Canoe Slalom) and Fabian Kauter (Olympic competitor, Fencing) attracted particular attention for their simple website ibelieveinyou.ch, where athletes can present their sports-related projects as well as the amount of money they need to turn their dreams into reality. Donors receive something in return for their donations, as defined by the athlete.
The fan.marketing.forum focused on the question: How can sports clubs and institutions activate fans? The presentation of Mr. Michael Meeske, CEO of German 2nd division football club FC St. Pauli, made it clear that fan involvement is not only a way to keep supporters busy and happy, but more importantly a chance to create a unique relationship between fans and the club.
Meanwhile, the brand.management.forum asked the ever-important branding question: Is it possible to quantify why fans are fans? Representatives of American sports, music and entertainment agency Octagon attempted to answer during their presentation of "Passion Drivers®", a tool that uses qualitative and quantitative methods to create a link between fans and their passion.
Networking & Breakfast Session
After a program-packed first day of the sport.forum.schweiz 2013, the noble Zeugheersaal of the Hotel Schweizerhof in Lucerne hosted the evening-party, Carré Event Night 2013 by art on ice (formerly known as Sports Night), where participants networked like champions while the Carré Event AG provided the backdrop of trendy music and entertainment.
The second day of Switzerland's well-known sports business meeting, the Breakfast Session, took place at the Hotel Schweizerhof, as well. There, people could enjoy a wide-choice from the morning buffet while listening to sports sponsoring experts such as TalkEasy, Erdinger and National Suisse. A main attraction was Swiss long-distance runner Viktor Röthlin announcing his decision to end his professional athletic career after the European Athletics Championships 2014 in Zurich to focus solely on his own company VIKMOTION (http://www.viktor-roethlin.ch).
20th anniversary in 2014 
With record-breaking attendance and trending topics for all those inside the industry, Switzerland's home-grown international sports business meeting is here to stay.
"Sports becomes more and more important as a marketing instrument, a trend, which also can be observed in the Swiss industry. Companies strive for emotions and content to make themselves and their products more known and sports is definitely one of the most important vehicles to do so," stated Hans-Willy Brockes, CEO of the ESB Europäische Sponsoring-Börse, looking forward to hosting the 20th anniversary edition of the sport.forum.schweiz next year around November in Lucerne as well.