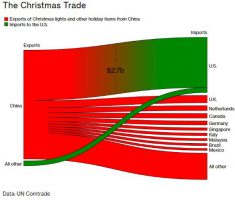 In December 2018 at the G20 summit meeting in Buenos Aires, the Chinese and the US leaders met together with their top trade officials.
Earlier in the year, the US hit China with new tariffs on USD 250 billion worth of Chinese goods and China hit back with tariffs on USD 110 billion of American goods. There is still another USD 267 billion of additional Chinese goods that could be hit with tariffs.
Truce
After the G20 summit, President Trump announced that he would not increase tariffs from 10 percent to 25 percent on 1 January 2019 on USD 200 billion of Chinese goods as he had previously planned .
Trump stated that China would immediately start buying large quantities of US products, mainly from the agriculture, industry and energy sectors. Chinese Foreign Minister Wang Yi said that the two countries need to open their respective markets and find a common trade ground.
The Chinese and American trade teams also agreed to a truce of 90 days before any further increase of the current tariffs.
The consequences of the US-China trade conflict on Christmas items
In China, Christmas is a USD 5.6 billion industry with a unique manufacturing and supply chain capability to match global demand, as illustrated by Bloomberg's "Christmas Trade" graph.
According to the U.S. Census Bureau, US retailers import 90 percent of Christmas ornaments and lights from China and two thirds of worldwide Christmas products are coming from some 600 factories in Yiwu in China.
A colourful unique industry
At the Yiwu international wholesale market, a five kilometer square complex, artificial Christmas trees, Santa suits, and other Christmas products are available for global retail buyers.
Yet, despite the US tariffs, manufacturers and suppliers are confident that US retailers will continue to come to Yiwu. The reason is that there is no better option available.
Christmas in China
As journalists Rachel Chang and Matthew Townsend point out, China offers a unique mix of raw materials, people, logistics and expertise in a stable political environment that is hard to find anywhere else. They recounted the example of some toy-sellers who tried to source their goods from India and Indonesia. Instead, they ended up manufacturing them in China as before.
Christmas in China, however, is not celebrated so manufacturers in Yiwu are dependant on the US and European markets for their survival.
Christmas items do not depend on sophisticated technology. Hence, low skilled labor and clusters of factories and assemblers in Yiwu have managed to create a unique Christmas manufacturing ecosystem.
China is though generally climbing the manufacturing ladder toward making highly sophisticated items, yet as in Yiwu, China is still strongly involved in the manufacturing of simple items; an unique approach among industrialized nations.
Sources:
Photo credit: