5 Tips on how to become a successful blogger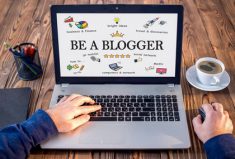 On Friday June 9th 2017, the Geneva Communicators Network held a workshop on "The truth about successful blogging". The workshop was conducted by Leyla Alyanak, publisher of Women on the Road, one of the world's top 100 travel blogs. Leyla is a former journalist and ex-Deputy Director of UNFPA's Geneva office and now consults full time as a writer, blogger and social media strategist. Geneva Business News had the opportunity to attend this event, and to speak with organizers Patricia Goldschmid and Glenn O'Neil, cofounders of The Geneva Communicators Network. 
Along with technological innovations, blogs first appeared in the 1990's at a time when simple access to the internet and free expression of opinions were becoming more and more widespread. Blogs became an integral part of the "digital world", both professional blogs and personal ones. Today, successful blogs can be as important in informing readers and influencing people as well-respected newspapers. During our participation in the workshop, we had the opportunity to learn more about how successful blogging works today. Here are a few of our takeaways.
What is a blog?
A blog is an online platform/informational website, written in an informal, conversational and usually subjective way. It can be run by one person or a small group. The posts are organized in a chronological order and contain anywhere from 300 to 5000 words. Blogs are also considered as a place where it is accepted to write about one's personal thoughts, where bloggers can answer people's questions and freely let their "hearts and souls" be expressed.
There are however limits. Leyla Alyanak indeed reminded us of some of the important responsibilities of a blogger. For example, as a former journalist she insists that all opinions should be backed up by facts: "As a blogger you have a huge amount of control, but you take a huge amount of risk."
How can blogs help organizations or businesses? Blogging increases their visibility. It also provides the opportunity for employees and partners to have a voice. Blogs can drive traffic and, even more importantly, help to promote their mission, products or services. Blogging also creates an emotional and personal link to brands, as it offers stories and experiences that are usually less formal than on a traditional website.
1. Strategy: For successful blogging you need to have a strategy 
Strategy should be considered as a pre-phase of the blog creation process. It is a very important step in order to make sure that the information is delivered to the right public and that this public will be able to find the blog easily. To make this happen, it is important to know:
Who is the target group for the blog?
What is the objective of the blog?
What are the main topics that should be discussed on the blog?
Who will be the blog's "voice"?
Since adults (much like children…) like to read and listen to stories, sometimes the best way to attract attention is through clever storytelling. However, to have a successful blog, the reader first has to find it – so the blog's job is to attract readers.
2. Attraction: How can a blogger attract readers?
There are many ways to attract potential readers. The main one is to carefully choose keywords and headlines that are used in the articles. They should be relevant to the topic being discussed and be simple enough to quickly explain its substance.
Most of us might think that headlines need to be clever or complicated, however, the opposite is actually true. There needs to be some intrigue in order to give the desire to read, but at the same time, titles should be straightforward. We live in a very hectic world and time is precious. If the general public looks for something on the Internet, they want to find it immediately. Therein lies the power of Search Engine Optimization (SEO):  if the article includes the 'right' words, readers can find it easily. If the headlines make the reader want to scroll down and read more, that is when the bloggers know they have done a 'good' job. But for how long? The level of engagement depends only on them and their ability to continue to attract readers and make them want to come back for more…

3. Awareness: Fame brings positives as well as negatives
We know that when a person becomes famous, there are advantages and disadvantages that have an impact on his or her everyday life. In the virtual world, "haters" and "trolls" could be considered as one of the biggest negatives. Therefore, bloggers need to have thick skin. They need to know that they will not always please everyone, and someone is bound to come back at them with some sort of criticism.
4. Proactivity: Do not be ashamed to call your readers to action!
As Leyla points out, every post should have an 'action/reaction' structure. Writing about a particular topic and afterwards inviting the readers to 'respond' to the article either by commenting, buying a product, signing up for newsletters, taking a look at social media or starting to 'follow' the blogger is a critical aspect of the blog. The reader needs to feel part of the blogger's community, thus creating a bond. This is similar to 'customer retention' in a traditional marketing sense.
5. Be social: Should bloggers be on social media?
Absolutely yes! Although social media is not necessary for a successful blog, it certainly helps for the blog to become popular. It is also a great way to complement the blogger's activities. It might be difficult to capture the attention of potential readers on Instagram, Twitter or Facebook, but the successful blogger might attract potential business partners. Blogs can also be linked to a company's (large or small) website, and help to increase visibility through interaction with the general public.

So…should I blog?
In short, Leyla's workshop provided participants with ideas and tips on how to start blogging and how to become good at it. To become a blogger, you should have a plan and something to say, but there is no guarantee of success. A blog has many aspects that can be unpredictable. Having said that, blogging is about strategy, but also about communicating feelings through a personal point of view. Sometimes the initial strategy works immediately. Sometimes it requires more attempts and a bit of trial-and-error until you find success.
The 'blogging trip' might be long. However, if you have interesting things to share with the public and if you like writing, it is definitely worth a try…
Sources: www.wikipedia.org; www.blogbasics.com; www.redevolution.com
Photo credit: ilkercelik via fotolia.com