China's Jack of all trades. Will there ever be another one?

Five years after quitting as CEO in 2013, Jack Ma will now step down as Alibaba's executive chairman in 2019.
He plans to spend more time using his vast wealth to pursue philanthropic endeavors.
One of a kind
Ever since Alibaba's launch in 1999, few have been able to match Ma's prominence in China's economic transformation.
The e-commerce giant is only rivaled in size by Amazon, and its share price has more than doubled since its initial public offering (IPO) in 2014, itself the largest of all time.
A question that remains is whether there will ever be another entrepreneur like Ma in China. The answer is almost certainly not, for several reasons:
It is unlikely that China will be able to repeat the same kind of economic expansion Ma benefitted from, which greatly fueled Alibaba's own growth. For example:

Alibaba was launched when China was in the process of joining the World Trade Organization (WTO), promising greater economic access to the rest of the world;
GDP per capita, in terms of purchasing power parity (PPP), was below $US 3,000 in 1999, but has increased five-fold since then, fueling demand for the services that Alibaba provides;
The internet was young. Although only one percent of China's population had access to it when Ma started his website company, he was able to benefit from first-mover advantage.
In addition to China's economic shift to a more consumption-based model and the emerging clout of digital behemoths, the nature of China's political system had also changed since 1999. For instance:

President Xi Jinping and the ruling Communist Party are more fearful of the disruptive social potential underlying certain businesses;
Stricter government regulation and supervision mean that Chinese corporate leaders are more curtailed than in the past;
Successful firms are more subservient to the Party's ambitions to compete on a global scale.
Therefore, China's Communist Party constrains business 'disrupters.' The party has now a greater say in industrial policy, which contributes to limiting the rise of business leaders capable of acting with the same kind of resourcefulness and bold ingenuity that Ma once did.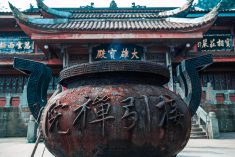 Sources:
Photo credit: