Electronic Data Interchange: Benefits and Use

Electronic Data Interchange (EDI), is the computer-to-computer exchange of standard business documents in electronic format between two companies.
Many business documents can be exchanged using EDI, and the most common are purchase orders and invoices. At a minimum, EDI replaces the mail preparation and handling associated with traditional business communication. However, the real power of EDI is that it standardizes the information communicated in business documents, which makes possible a "paperless" exchange.
EDI is important to both large and small business. Manufacturing, healthcare, pharmaceutical, utility and construction companies are good examples of EDI clients.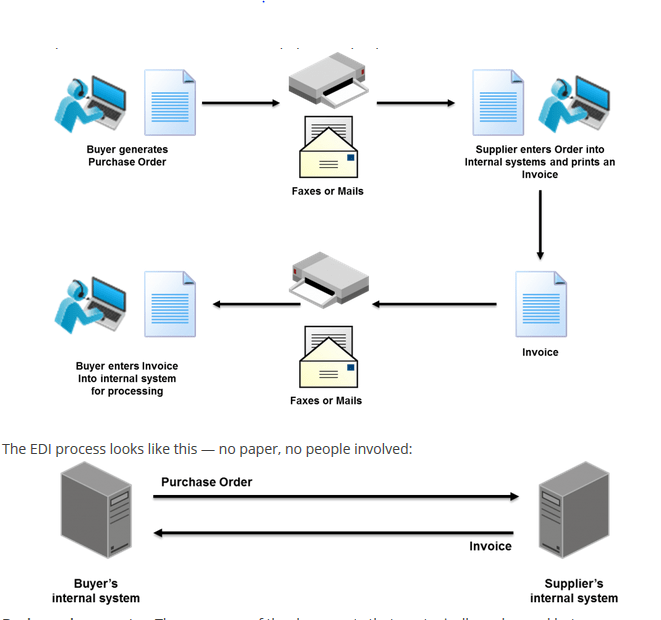 Because EDI documents must be processed by computers rather than humans, a standard format must be used so that the computer will be able to read and understand the documents. There are several EDI standards in use today, including EDIFACT, TRADACOMS, X12, ANSI and ebXML.
Benefits of Using EDI:
It's fast – streamlined business processes mean that documents can be exchanged in minutes,
It's accurate – manual data entry errors are eliminated,
It's secure – you receive confirmation that your documents have arrived safely,
It cuts costs – of printing, copying, filing, storage and postage, and of repetitive, labour intensive tasks, administration and disputes caused by data entry errors,
It happens in real-time – informing and speeding up business decisions and response times,
It's great for business – you're part of a connected trading community and can build more productive relationships with suppliers and customers alike,
It's great for cash flow – payment schedules are shorter and more reliable,
It's flexible – you can integrate your EDI system with your back office accounts, warehouse or ERP systems for greater business efficiency.
Image: Khalid Sherif