First win of the season for Servette FC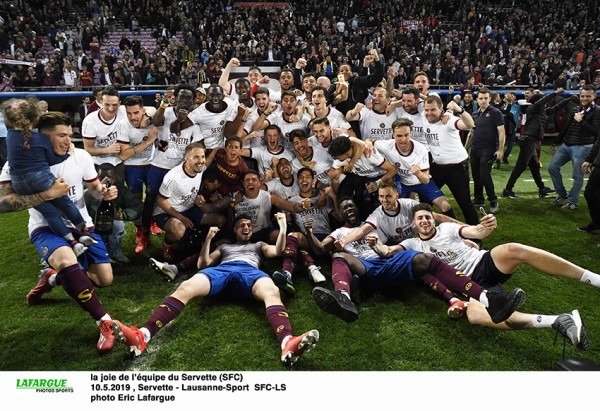 In May this year, 20,055 spectators watched Servette FC beat Lausanne FC at Stade de Geneve and secure first place in the Swiss Challenge League, with two games remaining. With their championship victory, they advanced to the highest league in Switzerland, the Swiss Super League.
Last Sunday, after finishing their first two games with a draw, Servette won their first League game of the season.
A modest 6,000 supporters made their way to Stade de Genève to see their team play against visiting FC Luzern. After a scoreless first period, Miroslav Stevanovi scored the first goal of the game giving Servette a 1-0 lead. There were more chances for the home team in the second half, but in the end, they held their scoreline to earn their first win of the season.
Servette FC has five points after three games and are third place overall. The team's next game will be away on August 10 against FC Basel, currently second in the league (see here for the full schedule for upcoming games).
A new beginning
The advancement of Servette FC to the Super League is a long-awaited event for a league that had stagnated over the past few years. With the two latest additions to Servette, French player Timothé Cognat and well-respected scout Gérard Bonneau, they are also adding some stardom to the league.
Servette FC are now financially stable and healthier thanks to the involvement of the Rolex Foundation, and the future looks bright for the club. Some 10 years of financial difficulties are finally behind them. How far can Bonneau and Cognat take the team? We will find out on May 21 next year when the last round of Super League games take place.
Sources:
https://www.nzz.ch/sport/warum-der-servette-fc-ein-gluecksfall-fuer-den-schweizer-fussball-ist-ld.1498577
https://www.20min.ch/ro/sports/football/story/Premier-succes-pour-un-seduisant-Servette-12089717
https://servettefc.ch/index.php/saison/actualites/1085-servette-en-super-league
https://en.wikipedia.org/wiki/Swiss_football_league_system
Photo: