Forbes: 30 under 30 Immigrants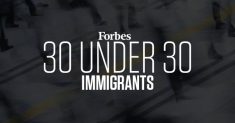 While there are many ideas about refugees and immigrants being a burden to host countries and communities, Forbes is sharing a list that counters these misconceptions.
Its annual lists of "30 under 30" present the brightest young entrepreneurs, innovators and game changers, 600 in total. Besides immigrants, other "30 under 30" lists include Celebrities, Education, Law and Policy, and more.
According to Forbes' list, one in seven of these under-30s immigrated to the U.S.
Below is a breakdown of where they came from:
23% from the Americas; 65.2% from Canada
41% from Europe; 26.8% from United Kingdom
48% from Asia; 35.4% from China
9% from Africa; 44.4% from South Africa
16% from South Asia; 87.5% from India
23% from East Asia; 73.9% from China
At a time when immigration policies are hotly debated, this proves that refugees and immigrants can provide cultural and socioeconomic wealth in the long-run.
Sources:
Forbes: http://www.forbesmagazine.com/
30 Under 30 2017- Immigrants: https://www.forbes.com/30-under-30-2017
Photo Credit: https://www.forbes.com