So what's new in 2017 ? Nothing shiny and brand new, but everything is moving quick in the mobile application industry. This year, trends have been staying the same as in 2016, but they are also developing as fast as a speeding rocket. Maybe "Keep your customer close and her/his behavior closer", should be this year's motto.
Whenever you click on an app, it's already evolving to something new. Mobile apps are trying to keep up in this fast-paced environment. Here are the 8 most significant technological trends of the moment.
 #1. Machine Learning (ML)
Implementing Machine Learning is the hottest trend this year. Massive progress has been made in this area, which opens a world of countless possibilities to shape the future of the mobile industry.
But what on earth is Machine Learning, you ask? ML uses a particular algorithm that enables teaching a computer program to recognize complex patterns (objects, sounds, speech, feelings, events etc.). It analyzes large sets of data to make intelligent decisions, predictions or recommendations based on this information.
#2. Augmented Reality (AR)
Augmented reality adds an overlay of digital and virtual information to the environment. For example, interactive map overlays, virtual showrooms that provide products in 3D imagery (furniture, clothes, cars), displaying real-time instructions, manuals or descriptions in retail stores, malls, museums, theme parks, etc.
AR offers a wide range of possibilities in diverse areas such as healthcare, education, retail, military, construction and architecture, design and modeling, as well as games and entertainment.
#3. Progressive Web Apps (PWAs)
In 2015, Google introduced a new innovative way to build web applications: Progressive Web Apps. PWAs are web applications that provides a native-like User Experience (UX).
They are used within a web browser, which is more effective at each new release. PWAs are added on the phone's home screen. The positive aspect of this trend is that the user doesn't need to install it like a regular app on her/his mobile device. PWAs are indexed by search engines and can be discovered on the web just like regular websites.
#4. Enterprise mobile apps
This trend is hot like a bottle of chili sauce. Don't say you never thought about collaborating from home wearing your pajamas!
Being able to work remotely with colleagues, employees or customers using mobile devices is one of the coolest trends. Incorporating enterprise mobile apps is interesting because you can manage and improve everyday business. As a result, using this will increase productivity, profitability and help the company to remain competitive.
#5. Wearable technology
The wearable technology market will pursue its spread, and so will the mobile apps integrated with these gadgets. Industries like sports and healthcare will be able to offer a new wide range of products with smart watches, bracelets or jewelry.
Here, Machine Learning will help the wearable technology trend by making predictions and recommendations.
So when will we finally be wearing Wi-Fi dresses?
#6. Location-Based Services (LBS)
Location-based services (LBS) is not a new trend, but it's still very used. LBS helps people to be aware of what's going on in their immediate locations: events, traffic conditions, finding places, etc.
Local businesses can take advantage of this trend and advertise their services in a very efficient way. On-demand services, such as electrical, housekeeping, plumbing services, etc. will benefit from LBS.
Location-Based Services become even more intelligent when combined with Machine Learning and Augmented Reality.
#7. Internet of Things (IoT)
Look around your living room. There must be something that you can already connect to your mobile device. More and more IoT is present in our daily lives. This year, there is not only an awesome season of GoT*, but also an impressive deployment and monetization of IoT systems.
Smart houses are a good example of IoT : regulating the heat or turning off the light from your phone is so practical and it's like playing with a digital doll house.
#8. Mobile app Security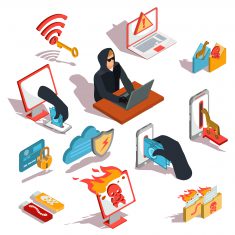 One major concern about mobile apps is security. While using an app, it might collect and use some customer data. But personal data need to stay protected !
In 2017, the mobile industry will manage drastic changes in attempting to resolve security issues. Among the most common mobile security vulnerabilities are weak server-side control, insufficient transport layer protection, unintended data leakage, poor authentication and authorization, lack of binary protection.
Stay connected but stay safe!
* Game of Thrones…for anyone who doesn't know the hottest series on TV!
Sources :
https://easternpeak.com/blog/mobile-app-development-trends-2017/
http://www.successagency.com/growth/2017/02/02/mobile-technology-trends-2017/
Photo credit : Pixabay – FirmBee, Freepik – frimufilms, Freepik – vectorpocket