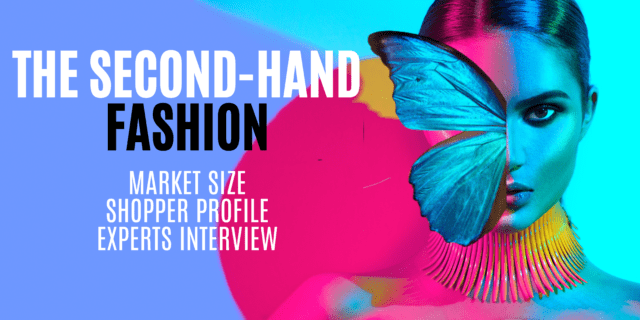 In this article, the FASHION  BUTTERFLY learns about second-hand fashion trends & the shopper profile of second-hand fashion!
Recently, sustainable living has become a big trend in response to concerns about our environmental footprint.
Accordingly, second-hand fashion is a rising trend because it actually makes fashion goods more accessible and affordable and has a positive environmental impact.
The global second-hand apparel market was estimated at $71 billion in 2022 and is projected to reach a value of $282 billion by 2032 faster than before (this is compared to a compound annual growth rate (CAGR) of +7.1 % from 2017 to 2021).
By contrast, the second-hand fashion luxury apparel market is estimated to be above $1 billion in 2022 and is projected to reach a value of over $3 billion in 2027. 
North America leads the global growth of second-hand apparel market, growing x8 times faster than the apparel market.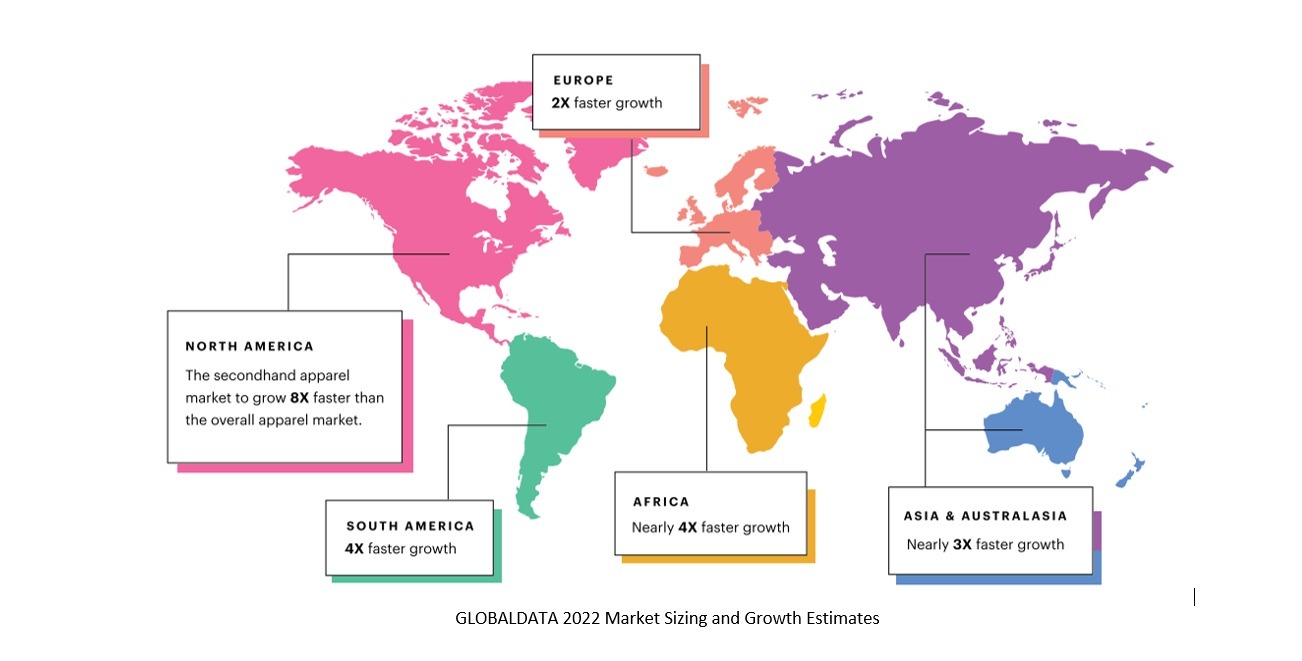 In Europe, the second-hand apparel market stood at $18 billion in 2022 and is projected to reach a value of $41 billion by 2032 growing +8.4% every year faster than before (+6.4% CAGR 2017-2021). The leading players in the European second-hand apparel market include Vinted, eBay, Vestaire Collective, StockX, Depop, Artpal, Etsy, Rubylane, Amazon, Spoonflower, Farfetch, Yaga, F&P Stock Solutions, and Garson & Shaw with approximately about 15% value share of the total market. 

Fashion resale is an important part of fashion retail's future. Research among retail executives without reselling activity shows that more than 50% of them feel they are behind the curve compared to their peers.
WHO IS THE SECOND-HAND FASHION SHOPPER?
More women, millennials and gen z
In terms of the target population, the women's fashion segment (compared to men & kids) is expected to hold a major share of around 46.4% in the second-hand apparel market and it is anticipated to grow by 11.2% over the next ten years. Women are rapidly turning to resale sites for special deals to acquire the desired fashion products at a more affordable price.
As of 2021, 42% of millennials and Gen Z respondents stated that they were likely to shop second-hand for items. The reduced prices of second-hand apparel also make clothes more accessible for ages with lower incomes.
Mid – low-income shoppers and top fashion luxury brands
In 2021 in Switzerland, people with a mid-low level of income purchased second-hand items primarily in the following categories: handbags, backpacks and suitcases, clothing, visual and audio media, electronic goods and telecommunications, and furniture and other furnishings. In Germany, the top luxury second-hand brands are:  
Second-hand clothing is growing more in households with kids, due to higher family expenses
It was also noticed that the number of children is a decisive factor to buy second-hand clothing; the more children in a household, the more likely people are to buy second-hand luxury clothing online for themselves and their kids. No difference in buying behavior was seen in other categories in terms of the number of children. 
Among affluent shoppers, 7 out of 10 reports that sustainability is the key motivator for second-hand 
According to the findings of a global survey conducted with affluent consumers in the first quarter of 2022, about 4 in 10 consumers aged between 18 and 39 thought buying second-hand goods to be 'very' sustainable and environmentally friendly. Across both age groups, the combined share of consumers who considered buying second-hand goods to be sustainable and environmentally friendly (those who rated this practice 4 and above) was about 70%. 
Second-hand shoppers feel proud of their choice 
75% of second-hand fashion shoppers consider themselves proud thrifters, 59% felt like bragging about their choices and 54% would go out of their way to tell people they wear second-hand clothes and 72% feel proud to talk about their second-hand choice! 
Second-hand shoppers: the conscious, savvy, thifters, and excited newbies
 -Conscious Consumer: They care about their environmental impact, and feel smart after shopping second-hand.
-Savvy Shopper: Tech Savvy Consumers are more likely to feel cool after second-hand shopping.
-Thrifter: Consider themselves smart savers and feel accomplished after shopping second-hand.
-Excited Newbies: Usually first-time thrifters, they are excited after purchasing second-hand.
Fashion resale is expected to further grow while consumers feel proud of their choice of second-hand apparel. Rethinking consumer needs behind the affordability and respect of the environment can lead to new strategies, new "go to market" channels and new communication campaigns that can make fast fashion and fashion luxury brands more relevant to more consumers. 
To further research this subject, the FASHION BUTTERFLY interviewed Babak Daghigh.
He founded the first second-hand online boutique with luxury goods in Geneva. We spoke with him about his background, trends in second-hand luxury and consumer motivation towards this trend.
You can read the interview with Babak Daghigh here.
Fashion changes, evolves and transforms! Stay tuned for more FASHION BUTTERFLY  adventures!
By the same author:
Fashion Butterfly: Best practices from fast industries
Sources

: