A painting opens a window on a moment fixed in time. A portrait of a person that will not age within the frame. The shape of a cloud that almost never existed. A dancer stuck forever in an impossible pose.
Yet painters have always strived to express movement, to infuse their work with life, a mixture of the ephemeral and the eternal.
This dynamic aspect is obvious in many of Vincent Van Gogh's paintings; you can feel both the movement of the brush and the movement of the light, the wind, the water.
In "Starry Night Over the Rhone", the stars appear to flicker – did you blink? – and the river swings gently back and forth. The painting breathes with you.
An unprecedented technical feat
But there is another way for still images to create movement. After all, a film is but a collection of frames shown in rapid succession. The writer and director Dorota Kobiela (along with co-writer, co-director and producer Hugh Welchman) decided to combine her passion for painting and film to create the first fully painted feature film. The impressive result is "Loving Vincent", currently playing in Switzerland.
The movie is a collaborative effort and a technical masterpiece. It was shot initially with live actors, either against green-screens, or on sets made to look like Van Gogh paintings. Afterwards, a team of 125 artists hand-painted the movie's 65,000 frames in the style of Van Gogh.
Viewers can immediately recognize the characters in Van Gogh's gallery of portraits, while still distinguishing the actors behind the paintings.
Van Gogh, between high art and pop culture
There is no need to be an expert to appreciate this opportunity to dive into a series of paintings. Vincent Van Gogh is one of the most famous artists of all time. Even those who have not set foot in a museum for years will be familiar with many of the characters and places depicted.
His self-portraits, his sunflowers, his night scenes have seeped into popular culture a long time ago. Tupac Shakur wrote the poem "Starry Night" in dedication, referring to one of his most famous works.
The same painting inspired the artist Aja Kusick to create her series "Van Gogh Never", in which pop culture collides with Van Gogh's universe. The painter himself was even a character in the English sci-fi series Dr. Who.
Thus, anyone will be able to enjoy the feelings of wonder created by the unexpected animation of the familiar. When a breeze gently strokes a sunflower. When a painted face opens up into a smile. When an empty bedroom is suddenly occupied and full of noise.
Importantly, this feeling of wonder, this aesthetic delight, does not detract from the appreciation of the story itself. The aesthetic and narrative aspects are blended together, so that spectators are able to enjoy both simultaneously.
Narrating the life of a legend
The story begins after the death of Vincent Van Gogh. His postman still has the last letter written by the painter. The postman asks his son, Armand, to deliver it to Theo Van Gogh, Vincent's brother and longtime supporter.
Armand struggles with his own feelings towards the painter. He is ashamed to be associated with this "weirdo" who cut off his ear and committed suicide. He does not understand why his father insists on the letter being delivered. Why won't he let the dead rest? Yet underneath it all, there is a begrudging love and admiration for this smiling and friendly man, for this great artist.
Armand embarks on a road trip to deliver the posthumous letter. The road leads him to Paris, where he discovers that Theo died shortly after his brother.
Yet the story does not end there. Armand talks with Pere Tanguy, one of the first art dealers to sell Van Gogh paintings, and decides to continue his journey. He will go to Auvers-sur-Oise, Vincent's last abode.
Armand is searching for the right recipient for Vincent's last letter. His adventure will take him through the past, through Van Gogh's life from his infancy to his last days, in a quest for understanding. Armand is haunted by a question: why did the painter commit suicide?
Art and pain, creation and death
This is an eternal question – one that can never receive a satisfactory answer, yet one that we can never stop asking. The movie addresses it by showing the impact of Vincent's death on his entourage. Pain, grief, disappointment and disbelief play on the painted faces. Trying to understand and trying to forgive.
Mixed with the themes of depression and suicide is the myth of the Genius, of the tormented Artist. Extreme sensitivity and art go hand-to-hand in our understanding of creation. This leaves the Artist particularly vulnerable to doubt and pain; soul bared to the cruelty of life.
Is pain the price of Genius? Would Van Gogh still be Van Gogh with both his ears? Was he fated to destroy himself?
His paintings remain, infused with so much sun and light that we do not know anymore.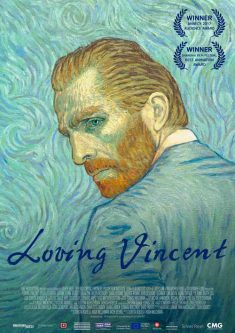 An immortal love story
"Loving Vincent." The movie's title has multiple meanings. It speaks to the difficulty of loving someone like Vincent Van Gogh. A great artist. Someone who struggled with depression. A loser and a genius. A painter. A simple man with all the beauty and contradiction that implies.
But it is also the way Vincent signed his letters to his brother Theo. "Your loving Vincent". Love shines through his letters, just as light shines through his paintings. Although it is painful, this love is not negated by Van Gogh's later decision to end his life.
Finally, the title of the movie is a declaration of love for the painter and his work. A celebration of the artist who found a place in the pantheon of those who can move us, whatever our background.
If you find yourself with some time on your hands in the next few days, you might want to escape the cold to a dark room full of moving pictures. I strongly recommend taking a dip into Vincent Van Gogh's universe. A world of intensely bright flowers and fierce, deep-felt emotions.
List of screenings in Switzerland: http://www.movies.ch/fr/film/lovingvincent/
Source: http://lovingvincent.com/
Photo credits: Starry Night Over the Rhone (1888), Musée d'Orsay; Portrait of the Postman Joseph Roulin (1889), Kröller-Müller Museum, via http://art-vangogh.com, poster for "Loving Vincent" via http://lovingvincent.com/