My TOP 10 takeaways from the Digital Design Days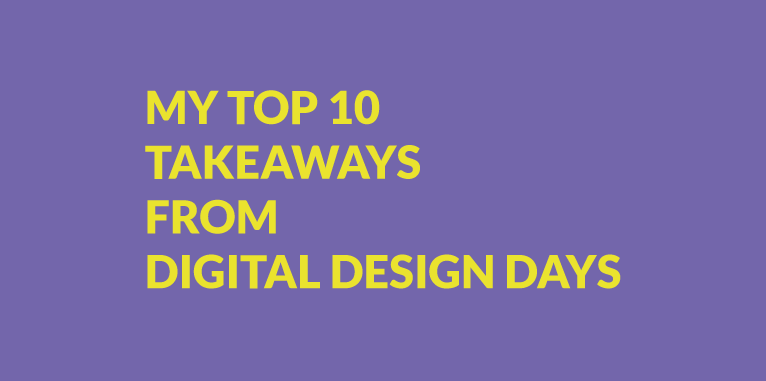 MY TOP 10
TAKEAWAYS
FROM
DIGITAL DESIGN DAYS

#DDD19
1. PERSONALIZATION MATTERS
More than create an impact and engage consumers, personalization allows a brand to express its purpose, to build a community and therefore to generate greater sales.
2. QUALITY IS THE KEY
Beyond the quality of the design itself – especially in VR – the whole project in every aspect must be top-notch such as handling client relationships or deadlines. More projects don't necessarily imply more income, however quality almost always does.
Check the 3Rs MODEL of Joel Pilger to run a successfull project
3. AN AUDIENCE IS BETTER THAN CUSTOMERS
An audience pays attention and time to your brand, and above all, are trustworthy ambassadors. To build an audience, be niche and know who are your customers.
4. FOCUS ON YOUR GENIUS & PURPOSE
Nowadays, customers are looking for transparency and authenticity. Consumers, especially millennials, are engaged and expect brands to have opinions as well as take social actions.
Check the DRAGON'S FORMULA of Dot Lung for gaining and retaining followers on Instagram
5. EXAGGERATE WHAT'S DIFFERENT
As the eye is the filter of main perception, design techniques – such as contrasts, patterns, metaphors – are powerful drivers to grab attention, to be memorized and create emotions leading to sales.
6. ENSURE IN(CONSISTENCY)
More than ensuring consistency between all platforms, design is an effective way to differentiate forms of content. Design guarantees a strong brand identity as well as space for people to express themselves.
7. DESIGN REVEALS COMPLEXITY
Design can show what is invisible – like a code or a machine – by humanizing technologies and making them accessible.
8. DIGITAL IS MORE THAN JUST MEDIA
Beyond its communicating and selling role, digital is a social and business revolution. It allows a visceral, interactive and expressive relationship with the consumer. The medium isn't anymore the message but the experience is.
9. DUALITY OF TECHNOLOGY
Technology brings out the best and the worst of people. You can express yourself without boundaries but at the same time you are anonymous like an avatar.
10. DIGITAL IS SOLVING UNMET HUMAN NEEDS
Big data allows the understanding of social, economic and environmental systems. AI can be helpful, especially in the fields of healthcare, education and the environment. Nevertheless, keep in mind that AI works better with human interaction.