Setting boundaries in life
What exactly is a boundary, when it comes to relationships?  Simply put, a boundary is a limit or space between you and the other person; a clear place where you begin and the other person ends.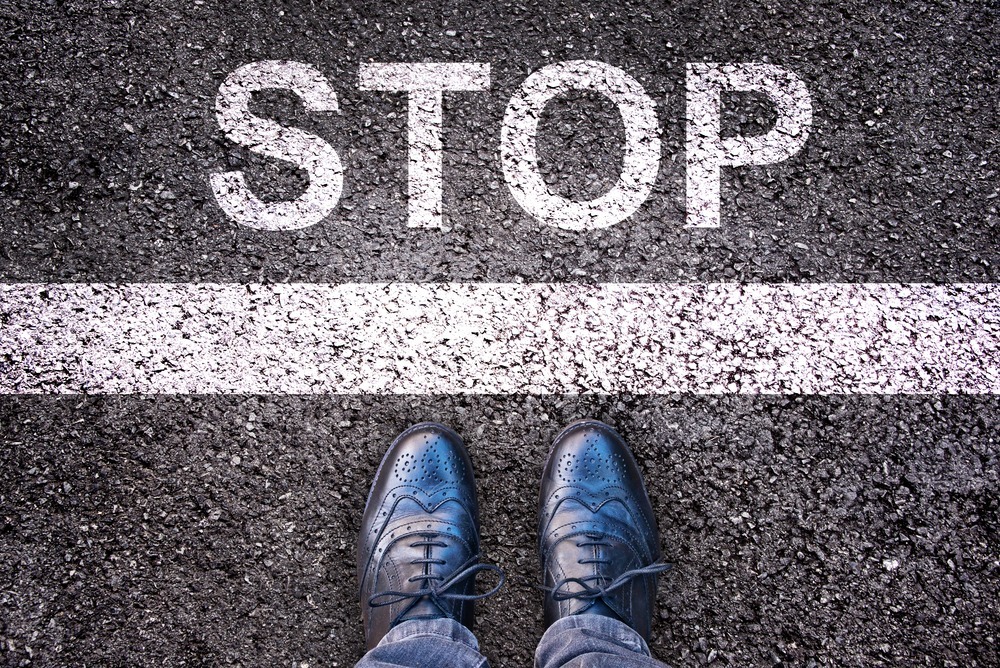 A boundary is the practice of openly communicating and asserting personal values as way to preserve and protect against having them compromised or violated. One may think of it like owning a house; the property has a specific boundary around it. Everything inside the boundary is the owner's responsibility, and what's outside is simply not.
By setting boundaries, we may still be keeping a distance, but we are giving the outside world a chance to prove their trustworthiness and making sure relationships stay clean and clear. The purpose of setting a healthy boundary is, of course, to protect and take good care of ourselves, first and foremost. When we start to blur those lines, we eventually find ourselves in situations that may become quite frustrating.
Boundaries create emotional health. They are also, it should be noted, created by people with emotional health. They are something we can start working on today with the people close to us or in our working environments. At first, it can be challenging to put oneself in a place of assertiveness. However, as time goes by, those who do will begin to notice a difference in self-esteem, confidence, emotional stability, and many other aspects of their lives. These will prove to be healthy changes.
Learning to set our own healthy boundaries is also an exercise in personal freedom. It means getting to know ourselves and increasing our awareness of where we stand and what we stand for.
Here are a few tips in order to set boundaries:
1)    Effective communication
First, we need to learn to communicate effectively. Good communication means honesty. It also means learning to express feelings without beating around the bush, but also while respecting other people's feelings. According to psychologist Leslie Becker-Phelps, Ph.D, setting healthy boundaries may include everything from speaking up when you believe you are being disrespected, to advocating for yourself to have time for your own interests. Being self-aware and clear about one's needs, as well as being specific and as direct as possible, are vital in effective communication.
2)    Know thyself
Another crucial point in setting boundaries is self-knowledge. Certain people have a tendency to worry too much about the consequences of saying 'no' to other people. Writing out beforehand how you wish to react to people when they enter your space may help you feel more confident about honoring the boundaries you require to maintain your happiness and success. One such tactic may be to simply change the conversation! Working close quarters or long hours may sometimes make setting boundaries difficult. When this happens, it is important to work together on how to find a balance.
3)    Sticking to decisions
Once one has learned to communicate effectively, and knows how she reacts, one has to learn how to make decisions and stick to the consequences. This means setting realistic goals, and not making a decision you are not willing to follow through with. When setting boundaries, they need to be enforced. Not enforcing them gives other people the go-ahead to continue behaving the way they did before. However, it is important to note that setting boundaries is not about making threats. It is about underlining the fact that we can choose a new behavior, and then stating the consequences for not following decisions. This is vital, because we cannot be in a healthy relationship without setting –and sticking to—appropriate boundaries.
4)    Putting filters in place
It is highly recommended to put in place two "filters" in order to develop meaningful and mature relationships in one's professional and personal environments. These filters are like protective barriers: the first filter protects you from other people, and the second protects other people from you.
The first filter that protects you from others will allow you to filter feedback given to you. If, for instance, a coworker provides you with blunt feedback all the time, you might at first be polite and accept it, but end up feeling emotionally beaten up by the end of the day. At those times, it is important to use one's filter to listen to what is actually being said, and separate the person's feedback from his awkward communication skills.
The second filter will allow you to protect other people from you. This works in conjunction with your communication skills, and it can help you to avoid giving the blunt feedback referred to above.
Learning to apply enough of both filters and to find balance between the two filters is tough. However, if the filters are not active enough, or too active, it can create conflict.
A person with strong boundaries understands that healthy personal and working relationships are not about controlling one another's emotions, but rather each person supporting each other in their growth and path to self-actualization and independency.
Obviously, there are basic tips that we all know but do not remind ourselves often enough about it, like avoiding company-issued devices and taking a day off regularly, if possible. Many of these tips fall under "common sense", but they are difficult to apply in the world we live in today.
In the workplace and in other places, we can find ourselves with all sorts of different people. The challenge is to figure out where we are in any particular relationship and then to adjust accordingly.
Sources:
https://www.ipfw.edu/affiliates/assistance/selfhelp/relationship-settingboundaries.html
http://psychcentral.com/blog/archives/2015/02/25/why-healthy-relationships-always-have-boundaries-how-to-set-boundaries-in-yours/
http://www.cnbc.com/2013/11/15/blurred-lines-setting-boundaries-at-workcommentary.html
http://www.forbes.com/sites/dailymuse/2013/04/26/3-crucial-ways-to-set-boundaries-at-work/#86f58645ee0d
https://hbr.org/2014/07/the-emotional-boundaries-you-need-at-work