SocialFluent Live: Creating & Engaging Connections Online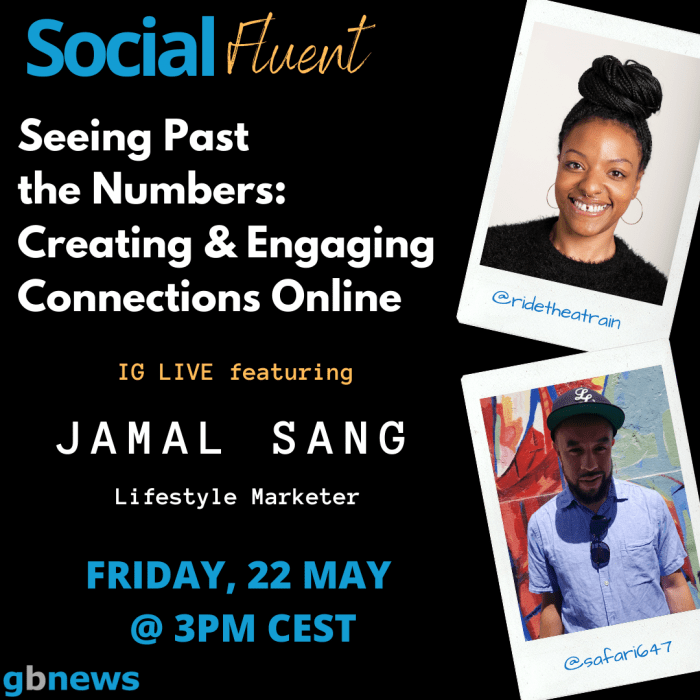 Creating & engaging connections online can make a huge impact on your customer's brand loyalty.  But how is it done?
Join Ashleigh Armstrong, social mediaholic and host of our new weekly Instagram Live series, "SocialFluent", for a discussion with Lifestyle Marketer, Jahmal Sang.
Meet the Social Media Czar of creating & engaging connections
Jahmal Sang is a culture aficionado and expert at creating and engaging connections online with 20 years in lifestyle marketing by choice. As an advocate of continuous digital learning, Jahmal is always looking for opportunities that can, "bridge traditional techniques with emerging platforms with a sociable touch." He is a self-described character in "Where the Wild Things Are", paying it forward in music, football, and fashion.
Ashleigh Armstrong brings together people to help groups thrive as a Community Manager and Content Creator. She supports brands and organizations building their social media presence, and in her words "turns customers into fans and fans into ambassadors."  Check out some of Ashleigh's other social media themed articles here.
You'll be able to ask questions live during the session via the comment section!
Where: Follow us on Instagram @geneva.business.news, visit our account and tap our profile photo to join the conversation!
Date: Friday, May 22, 2020 
Time: 3:00pm CEST