The Fashion Butterfly: Part 1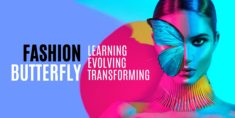 Dear readers, I am excited to introduce FASHION BUTTERFLY, a new section from Geneva Business News!
FASHION BUTTERFLY aims to tell her story about all the hot topics in the fashion industry. We will look at what forces are creating change, evolution, and transformation, and use our new fashion wings to reach new heights … about all the trends and challenges pushing her out of her comfort zone – out of her fashion cocoon!
She will seek to understand more about Fashion Hyper consumption and Sustainability. She will look at Fast Industries like Fast Moving Consumer Goods ( FMCG) & Fashion to find commonalities and differences to learn from each other's good practices. She will explore how Luxury can continue driving premium in difficult times, but also how technology can transform the Fashion Industry and much more…  FASHION BUTTERFLY will seek answers in different gardens through speaking to consumers & industry experts…!
Stay tuned for FASHION BUTTERFLY EFFECTS!
Subscribe below to receive our weekly updates.
Further reading:
Luxury industry going green by Noor Omar