The Little Coaching Dictionary: The inner judge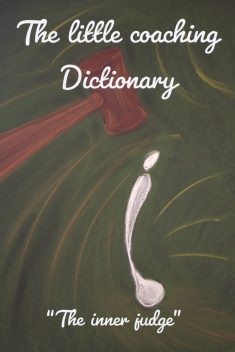 For the French version, click here
Popular in the coaching or psychological world, the idea of the 'inner judge' is the inner voice or the inner thinking process that whispers to you negative thoughts internally, such as, you are not enough, you make too many mistakes, or you will never achieve your dreams.
For some, this 'inner judge' also comes out in their speech with statements such as I'm stupid, I'm so dumb, I'm a failure, I'm a fool, I'm clumsy …
What is the impact of using this inner language? For one's self-confidence or self-value, it is destructive. It puts you down and contributes to reinforcing the belief that you are not up to a task.
If you are amongst those who to put themselves down constantly, take a moment to imagine how you would feel if someone addressed you in the same way? Would it not make you feel sad?
How you treat yourself defines how others will treat you
Self-inflicted insults hurt, and they obviously lower your self-esteem bit by bit. Worse, they get picked up by the people to whom you voice them to. They in turn then treat you as you treat yourself – you have implanted the idea in their subconscious that you do not deserve respect or to be treated fairly.
If you do not respect yourself, do not expect that others will respect you. They are merely subconsciously listening and following your lead.