Top Free Things in geneva

Geneva is an expensive destination for tourists compared to other cities in Europe.
On the other hand, the city offers visitors many unique things for free that will make a trip to Geneva cheaper and more enjoyable.
Free public transport!
For those arriving by plane, you can get an 80-minute ticket for the Transports Publics Genevois (TPG). These tickets can be found in the luggage retrieval hall just before the customs declaration area. It is free and entitles you to take any train from the airport to the centre of Geneva, and once in town you can use any bus, tram or 'mouette' – Geneva's unique yellow shuttle-boats.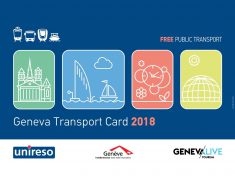 When you stay in a hotel, a youth hostel or a campsite in the canton of Geneva, make sure you ask for the 'Geneva Transport Card,' which provides you with unlimited free public transport during your stay.
Museums
There are many wonderful museums in Geneva that you can visit for free, including the Maison Tavel, the Natural History Museum, the Conservatory and Botanical Gardens, St Peter's Cathedral, the Art and History Museum, the Universe of Particles at CERN, and the Cité du Temps. In addition, the impressive International Red Cross and Red Crescent Museum is free on the first Saturday of the month from November to March.

Free WiFi
It is easy to stay connected while in Geneva because of the considerable number of free WiFi hotspots in town!
Currently – and the number is constantly growing – there are 635 WiFi access points supplied by the City of Geneva in 78 different locations, including along Geneva's lakefront, the La Perle du Lac, in the Botanical Gardens, and in many public parks such as the Parc de la Grange, Parc des Eaux-Vives, and Plaine de Plainpalais. For the full list of free WiFi locations, click here.
And more!
Other sites to enjoy and wander around include the fabulous Plainpalais flea market where you can find a wide range of bric-à-brac, antiques, curios, and fresh market food. At the beautiful Cimetière des Rois near the old town, you can take in the peaceful atmosphere and visit the graves of famous people including the Protestant reformer Jean Calvin, the Argentine author Jorge Louis Borges, the renowned local author, activist and sex worker Griselidis Real, and one of the greatest scientists of the 19th century, Humphry Davy.
Sources:
https://www.dw.com/en/geneva-listed-most-expensive-in-new-study-on-hotel-prices-in-europe/a-43406764
https://www.geneve.com/en/good-to-know/
http://www.ville-geneve.ch/themes/environnement-urbain-espaces-verts/acces/
Pictures:
Efthymiou Efthymia