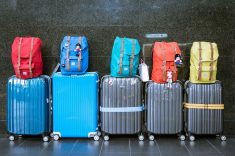 The business and leisure traveller have different wants, needs and travel patterns.
The leisure industry is the segment of business focused on recreation, entertainment, sports, and tourism. Business travel is more limited.  Generally individuals are working while travelling, but are doing so away from work and home.
One of the main differences between the two is wants versus necessity.
For the business traveller
Location is key
Ideally, the business traveller needs to be close to where the conference is held or close to the venue or site they are visiting. They do not want to waste time travelling to and from the venue.
Connected 
The business traveler needs to remain connected to their clients and colleagues during their business trip and requires constant access to important files and emails. Providing internet connection is a must in the hospitality industry.
Loyalty program
The business traveller company may have a preferred hotel and airline partner that grants corporate rates, ensures a standard comfort, and keeps costs under control.
Amenities
The business traveller needs to prepare for their work in the morning, and amenities like breakfast, coffee machine, iron and ironing board are essential for morning prep.
For the Leisure traveller
Price sensitive
In general, the leisure traveller wants to have the best deal for their stay. Not necessarily cheap, but good value for money
Reviews
The leisure traveller will turn to friends, family and online reviews for recommendations. A study by Google said that 82 percent of leisure travellers rely on reviews for their choice of hotel. A negative review of a hotel hugely detrimental and is why hotels must respond to reviews and resolve issues on review websites.
Packages
Leisure travellers are often looking for ways to enhance their travel experience and are drawn to hotel packages than the business traveler.
Facilities
Pools, evening entertainment and kids clubs for those travelling with children will be more appealing to the leisure traveler.
To have a successful business, it is important to understand the needs and wants of your customers. The same principle applies to hotels, understanding the guest differences and preferences of the business and leisure traveler will ensure that they are provided with what they really want.
https://www.e-marketingassociates.com/blog/understanding-differences-business-vs-leisure-travelers
https://www.swisseducation.in/single-post/2017/07/14/Differences-Between-Business-and-Leisure-Travelers
Photo: Pixabay