What Generation Z expects from luxury brands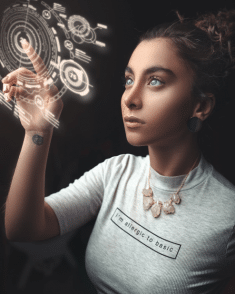 Generation Z will become the most influential consumers of luxury brands. Understanding how they think and what motivates them will be crucial for a brand's success.
Generation Z
Born between 1995 and 2010, Generation Z is a third of the world's population, and live surrounded by digital tools. They are what we call digital natives, and they expect brands to embrace technology as much as they do. According to Forbes, this generation spent the equivalent of more than $200 billion annually in 2018 and will spend $10 trillion in their lifetime.
Masters in ad blockers   
Ninety-eight percent of Gen-Z's are equipped with a smartphone, which they use for many of their purchases. Before buying goods, they consult on average three sources such as influencers' recommendations, social media likes, and customer feedback.
Television promotion has no effect on them: they consider it as being old school. Even digital marketing can be ineffective in getting the attention of the "Zs" since they generally have mastered the use of ad blockers. To capture them, luxury brands are therefore being forced to reinvent themselves. Indeed, to remain attractive and relevant, it is important to provide Gen-Z with personalised digital experiences.
Storytelling is key  
A study published by Kearney states that half of all 15-20-year-olds today would boycott a brand if they do not agree with its ethics. It is therefore essential for luxury brands to understand what Generation Z expects from them.
This generation is seeking a personalised approach focused on authenticity. Generation Z shoppers tend to value a brand's history as well as innovative designs and unique items that reflect their values. There has to be a sense of personal attachment with the items purchased, hence the importance of storytelling.
Young consumers avoid superficial and favour quality and design. They want products that are worth their price and recognise product promises that can not be kept. Luxury products must find their place in their daily lives.
According to Ifop, Gen-Z's favourite brands are Gucci, Louis Vuitton and Supreme. It is by defending societal values ​​that these houses have been able to compete with young streetwear labels.
Influencers
This generation is encouraged to purchase by influencers on social media. With more than 17 million followers on Instagram, Chiara Ferragni is acknowledged as the most powerful influencer in the world, according to Forbes. Furthermore, Chiara took advantage of her notoriety to make strategic collaborations with many luxury brands, including Gucci or Lancôme. In 2015, she also launched her own brand online, which is now sold in more than 350 stores worldwide.

Collaboration and Capsule collections 
Capsule collections are designed for the younger generations. It consists of a line of clothing with only a few pieces created in limited editions. These creations are often the result of a collaboration between two brands or a big name in the fashion industry. As the pieces are sold in small quantities, it often creates riots in stores the day they are released.
The most popular collaboration combine luxury and streetwear, including Louis Vuitton and Supreme, Adidas and Kanye West's Yeezy, or Chanel and Pharrell Williams. Furthermore, luxury brands are working with cutting-edge designers, such as Rihanna and her new Fenty Maison in collaboration with LVMH, and Virgil Abloh, men's wear design director for Louis Vuitton.
Mixing and matching
Gen-Z have partially shifted their consumption away from traditional luxury brands to premium, fast-fashion, niche and sports brands. Furthermore, this generation has shown preferences for mixing-and-matching and purchasing both high and low if the message is right.
For example, Evian collaborates with some of the greatest designers to come up with limited editions of bottled water. The brand worked in collaboration with Jean-Paul Gaultier, Christian Lacroix, Elie Saab, Chiara Ferragni and more recently, Virgil Abloh.
Evian is not the only brand collaborating with designers. Ikea has recently worked with Abloh on a limited edition collection targeting Generation Z called Markerad, which, in the words of Abloh, is designed to "add an artful quality to anonymous objects."
Corporate social responsibility
This generation is constantly looking for purpose-driven companies and feel profoundly influenced by events that have impacted them directly. A few topics that are meaningful for the Generation Z  include climate change, LGBTQ rights, human rights and animal care.
Indeed, Gen-Z are well aware of environmental, political and societal problems that the world is facing now and they feel personally responsible to make a difference.
For example, in 2018 H&M launched a collection to support the LGBTQ community. Balenciaga showed its support for the World Food programme by collaborating with them to launch a special collection called "Saving Lives, Changing Lives".
More active in the second-hand luxury 
Second-hand consumption pattern has increased among Gen Z the past few years. Indeed, second hand sales are increasing almost three times faster than among older people. It is the only way for this generation to get their hands on sold-out collections or limited editions. Often, people think that Zs are attracted by second-hand items because of lower prices. Yet, it is the actual vintage items that fascinate them.  Yes, Gen Z finds it cool to wear other people's old clothes.
Most of the second-hand luxury items are sold online, the top-ranked websites are : Vestiaire Collective, Collector Square or Fashionphile. It is also a way for younger people to afford new collections, by empty out their wardrobes and selling out old items. Furthermore, this practice is both convenient and sustainable.
How to reach Generation Z
If you are looking to reach 15-25 years with your luxury brand, focus on the culture of sportwear and streetwear, collaboration and capsule collection, uniqueness and authenticity, ethics and transparency,  innovation and high tech, and the last but not the least:
send strong messages in advertisements
Sources: