France-Helvetia Linkage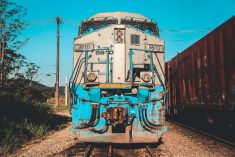 The France-Helvetia rail project, designed to link two major French seaports – the Port du Havre and the Marseille Fos Port – to the canton Vaud in Switzerland opened in September.
Three weekly rotations
The link provides three weekly rotations. According to the Port of Marseille, departures from the terminal of Le Havre and from the quays of Marseille will take place on Monday, Tuesday and Friday. In the export direction, trains will leave on Tuesday, Wednesday, and Thursday from the Chavornay transport terminal, which is situated between the economic basins of Lausanne and Yverdon.
The convoys will have a maximum carrying capacity of 40 to 42 TEUs (twenty-foot equivalent unit) depending on the direction of traffic and can carry containers 20 to 40 feet long.
The project will enable the two French ports to expand their growth beyond the French market, and open potential new markets for producers and manufacturers in Romandy.
The Swiss container market is between 350,000 to 400,000 TEUs per year, of which, to date, only a small part transits through the two French ports.
Source:
https://www.lemoci.com/actualites/entreprises-secteurs/france-suisse-marseille-fos-et-haropa-lancent-une-liaison-ferroviaire-avec-la-suisse-romande/
https://www.lantenne.com/La-navette-ferroviaire-France-Helvetie-Express-ouvre-debut-septembre_a44013.html
http://www.lemarin.fr/secteurs-activites/shipping/31698-france-helvetie-express-demarre-le-3-septembre
Picture: