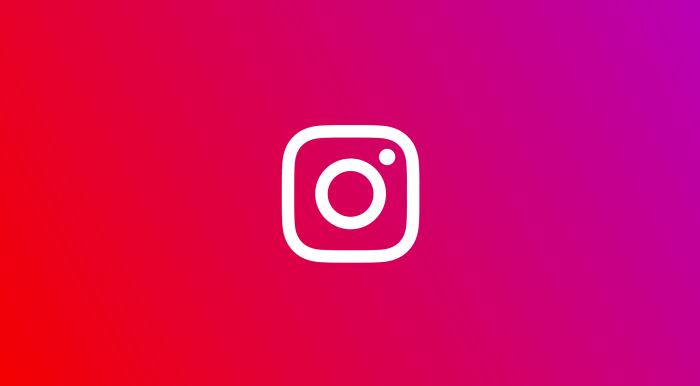 Like all things digital, Instagram continues to evolve as a social media platform.  New features, buttons, and algorithms have changed the landscape of opportunities for marketing and in response, using proven Instagram best practices, brands are finding new ways to engage their customers.  
In 2019, companies spent approximately $20 billion to advertise on Instagram.  This year, the competition is intensifying, as companies vie for the attention and loyalty of users.  Instagram is the place to showcase your brand's values, personality and authority using all the latest tools and features; generic posts don't get seen.
So how can your brand's profile stand out against the competition? Start with a clear game plan and let these Instagram best practices be your guide.
1. Start using a business profile
Using a business profile is the first necessary step to Instagram marketing.  It allows you to grow your brand following and build your sales funnel in ways that a personal account does not.
If you already have an account for your brand, but it's a personal profile type rather than business, no worries; easily switch to a Business Profile by following these short steps.
With a business account, you can:
Launch and track campaign strategies.

Use call-to-action buttons that users can tap to do business with your brand.

Use real-time data to monitor organic content.

Earn the coveted verification badge certifying authenticity that every brand is after.
All of this data helps you to determine what your audience responds to so you can make informed decisions on what to post to drive traffic, engagement, and sales.
2. Polish up your bio- and really make it shine
If you were trying to sell a house, you would make sure that the outside is beautiful and inviting to get potential buyers through the door .
Your bio serves the same purpose: to create curb appeal.  
You have 150 characters and a photo to communicate the ethos of your brand, so use it to stand out. This section should tell users who you are, what you offer and why you are different.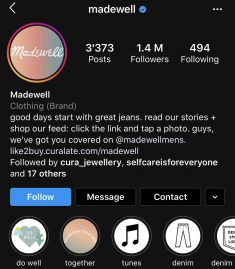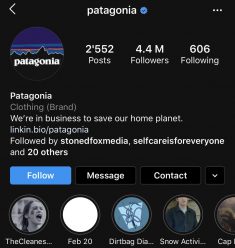 Both Madewell and Patagonia do a great job of doing a lot with a little.  Do you see those intros? Their taglines are quick and punchy. Madewell mentions their menswear account to make sure they don't lose out on any potential menswear business.
The Instagram verification badge really helps brands build their audience's trust, especially since it's a bit of a mystery how Instagram decides which accounts earn one and which ones don't.  It's wise to apply for that little blue checkmark with a big meaning. 
3. Make doing business as easy as a few clicks
Instagram has introduced so many tappable and clickable features that creating shoppable content is essential for any Instagram marketer.  While the ability to checkout within the platform is currently available on a limited basis (beta testing in the US market), you have the ability to tag products in posts and stories and gain views on the Explore page. This has the potential of up to 200 million users coming across it, daily.  
Here's an example of the Explore page on the left.  Notice the shopping bag in the top, right corner of each photo?  That is the indication to users that there are shoppable items on that post. Tapping the photo will take you to the post itself where the post photo contains tagged items that you can tap to learn more about a product or purchase through an action button that takes you to Le Creuset's online store.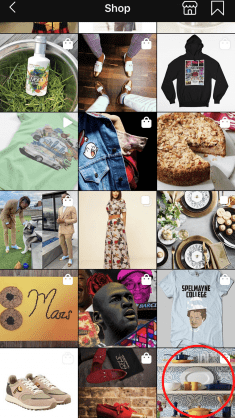 In the food, health & beauty or ticketing service industries?  Now you can add an action button to your profile allowing users to reserve a table, book an appointment or purchase tickets within the platform.  To use this feature, you need an account with one of Instagram's action button partners.
4. ABC – Always Be Creative
Instagram is full of creative and editing tools, and features that really allow your creative juices to flow.  Make use of them and third-party apps to give your content a fresh look and feel.
Try new content styles.

Engage with your audience by asking questions, creating polls, going behind-the-scenes, sharing demonstration and tutorial videos, tell uplifting and motivating stories….the possibilities are endless, so choose what suits your brand according to what your audience responds positively to. 

Try out visual effects. 

Play with editing tools to find the right look and feel for your brand's photos.  I often use the in-app camera and effects in Instagram Stories to do my editing. There, you can use the Create interface, which allows you to do just that using GIFs, templates, stickers, colors, and text.

Don't forget about the video.

  IGTV is great for videos between 15 seconds and 10 minutes.  After uploading a video, the first 15-seconds can be shared as a clip posted on your feed and longer videos can be shared as a 60-second clip with an invitation to continue watching the full video on IGTV.  If you create a series, users can tap on the title to view other episodes.
5. Make use of Stories
Instagram Stories is a space for photos and videos that are accessible for 24 hours.  
When used well, Stories is a strong marketing tool.  It can be used to drive traffic to posts and products, post a poll to build excitement around a new offer, invite users to get to know you by asking questions, host countdowns and more through tappable stickers and links.
Instagram offers these 4 tips on how to make the best use of Stories.  In short:
use the editing and tappable features to get the most feedback possible in real-time;

create engaging content using features within Stories such as Layout, Boomerang, and Hyperlapse;

take advantage of the 24-hour time limit on Stories to feature flash sales, limited-time offers and sneak peeks;

and don't forget to make videos that sound as good as they look, since 60% of stories are viewed with the sound on.
Stories can be saved as Highlights after they've been posted. Adding to the Highlights section is one of the Instagram best practices which is great for sharing more about your brand. 
6. Be S.M.A.R.T. when setting goals
Hootsuite's Social Media Trends 2020 report shows that 44% of 3,000 marketers surveyed indicated that "driving conversions" is the primary goal of their social media efforts.
While this makes sense, this goal is truly rooted in the short-term since the effect is seen pretty immediately.  However, to establish your brand as an authority and keep followers coming back, create a long-term focus using S.M.A.R.T goals (specific, measurable, attainable, relevant and timely) to determine your best measures of success.  Then, make sure that your content is aligned with your target audience's demographic and interests.  This method has the potential to create much greater value for your business in the long-term.
7. Plan for success by successfully planning
All of the efforts that you put into your Instagram should add value.  But how can you be sure if you don't plan it? Sure, an unplanned post can go up when the opportunity strikes, but thinking S.M.A.R.T. requires planning.  One of the most effective Instagram best practices is to use a content calendar to organize and schedule your posts in advance.
A personal favorite of mine is Later.com, which allows me to organize my photos and videos, keep track of my hashtag groups, plan my feed according to aesthetic, plan captions and so much more, all with the ease of drag-and-drop functionality.  
Check out this list on the Later blog for tips to organize your Instagram content.
8. Don't neglect hashtags and geotags
Instagram users search for content using hashtags and follow them as well.  Use hashtags to be seen in searches by potential followers. Geotagging lets people know where to find you if your business or service has a physical location.  This Instagram best practice is great for reaching people who search in your city either seeking a local connection or looking for businesses while on a visit.
9. Turn your Insights into Impact
The Insights page offers you detailed information on how your content is performing.  On it, you can learn information about your content (ex. most popular posts), the audience (gender, age, location, times they are most active) and activity (number of website clicks and profile visits, how people are finding your content).  You need at least 100 followers to start seeing data about your audience. But once the data is available to you, look for trends as well as high and low-performing posts which can be helpful in determining future content.
Sources:
Instagram Brings In More Than a Quarter of Facebook Sales,  Sarah Frier and Nico Grant
10 Instagram Best Practices You Should Be Following in 2020, Becky Tumidolsky
Set Up a Professional Account on Instagram, Instagram Help Center
Verified Badges, Instagram Help Center
How to Get Verified on Instagram in 3 Simple Steps, Michael Aynsley and Christina Newberry
About Action Button Partners, Instagram Help Center
Businesses Love Instagram, Instagram Business
How to Use Instagram Stories Highlights to Wow Your Customers, Benjamin Chacon
How to set (and achieve) meaningful social media goals, Brent Barnhart
Social Media Trends 2020 report, Hootsuite
6 Tips for Organizing Instagram Content with Later, Benjamin Chacon