Marketing News: Air New Zealand tackles climate change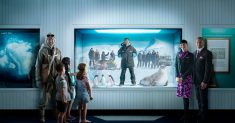 Air New Zealand has partnered with Antarctica New Zealand and the New Zealand Antarctic Research Institute to create a new safety video, but with a climate change awarness spin.
The short film aims to spark a conversation on climate change by teaming up actors and the UN Environment Goodwill ambassador and Lonely Whale founder, Adrian Grenier, with scientists at Scott Base, New Zealand's Antarctic research station.
"This safety video highlights Air New Zealand's support of the scientists striving to make discoveries that are going to help humanity — a cause which aligns with my own commitment to the environment," Grenier said.
Air New Zealand has been a supporter of Antarctic science for close to a decade with the Biological Resilience Project an important focus of the partnership.
"Multiple teams of researchers are investigating ecosystems on land and water in the Ross Sea area. The goal is to build a monitoring network to understand how rapidly the impacts of environmental change expected in a warming world may play out," said Jodi Williams, Global Head of Brand and Content Marketing at Air New Zealand.
Air New Zealand setting an example
In this respect, Air New Zealand should be lauded for their investment in these projects, setting an example for other airlines to follow. In a world where sustainability for the aircraft industry is focused on alternative fuels and carbon credits, this video shows how airlines can reach their customers and educate them on climate change.
Source and photo: Air New Zealand Communications