Patrick Delarive, serial entrepreneur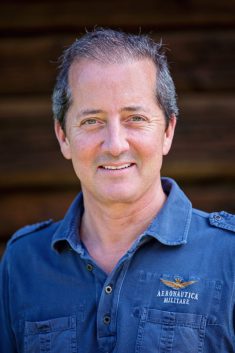 After having to reschedule three times, Patrick Delarive and I finally meet at his daughter's trendy restaurant, Marcel, in Eaux-Vives. We had planned to meet that morning at his offices in Lausanne but an unscheduled meeting for him in Geneva that afternoon saved me the trip.
His daughter, Femke Delarive, seats us a quiet table and continues to prepare for the lunch rush that has already started to trickle in at 11:30.
A natural story-teller, for the next hour Patrick Delarive fascinated me with his career story.
Start small, dream big
Patrick Delarive started to work when he was twelve. He spent his free time doing any jobs he could find. He runs off a list as long as my arm of odd jobs, from washing dishes to delivering flowers and everything in between.
At sixteen, after he repeated the same school year three times, he began an apprenticeship for a clerical position at Banque Populaire Suisse.
For the next ten years, he worked for Credit Suisse and Citibank in the US and Switzerland, becoming vice-president by the time he was twenty-six. Tight in his job, he left banking with no idea of what he was going to do next.
Entrepreneurship 101: say yes to everything
With the fall of the Berlin Wall in 1989 and the end of the cold war in 1991 came new opportunities. As Eastern Europe and Russia opened up, Delarive opened offices for clients in Belgrade, Sarajevo, Gdansk, Chechnya and Vladivostok; at the same time exporting to Eastern Europe anything and everything that he found they needed or wanted, including thousands of tons of Swiss chocolate. "Every idea I had, I put into action," he says telling me about the tons of baby food he also exported.
He opened two supermarkets in Moscow and one in Sofia, Bulgaria, that he later sold to one of his partners. Being of Swedish origin, he naturally came up with the idea of importing Swedish food. Delarive created and developed the concept of a food boutique after the checkout counter at the IKEA stores in Switzerland, France and Italy. The concept was so profitable that IKEA took over the operation themselves in order to globalize it.
The start of an empire
In 1995, Delarive returned to his original career of asset management and financial brokerage and founded the Delarive Group. His decision to invest the profits from the wealth management services in property was the start of his real estate business that would account for some 800 million CHF in developments in 20 years.
Delarive used the profits made from real estate to invest in other businesses. He launched himself into the hotel industry by launching the eco-glamping concept, Whitepod; and into the music industry by producing the then nineteen-year-old Bastian Baker, making him a household name in Switzerland.
Disruption as a business model
The most recent business of the Delarive Group is the consolidation of veterinary industry. In doing so, Delarive and his partners have created the first veterinary group in Switzerland, similar to those found in the US and the UK. With 10 cabinets in the group already after just eight months of operations, they are expecting to have 20 by the end of 2018. The group, Swissvet, currently has the only animal scanner in the Romandy region.
This is just one of several projects on which he and his partners are working. The partners, a team made up of specialists in economy, hospitality and IT, decides which projects will go forward "since they are the ones who will be working on it". After proving its viability and demonstrating the proof of  concept, they find investors to expand exponentially the concept. In this way, an initial investment of a few hundred thousand francs can reach a value of millions within a short period of time.
Other examples of this business model are NEHO, the real-estate brokerage platform. Sellers pay a flat fee to list their property as opposed to commission. Homeowners are then responsible for showing their own properties. The team have also recently launched Avengarde, a legal cannabis producing company focusing on medial applications. While the focus is currently on derivative food and beverage products, the intention is to concentrate on the medical industry. Avengarde is partnered with the largest privately owned American group in the cannabis business. Cannabis sales in the US is worth some $40 billion.
While doing all of this, Patrick Delarive somehow still finds time to explore other avenues of interest. He has several mandates as a personal advisor to executives of multi-national companies. Despite not having finished school, he teaches at HEC Lausanne and is a resercher on innovation and change at ESSEC Business School in Paris, in which he sits on the board of Global Variation, a fast rising new think tank. Delarive is also memner of several boards including the Montreux Jazz Festival. All this not being enough, Delarive is a licensed pilot on Pilatus PC12, and recently became a certified Maieutique therapist, and after writing for the Bilan magazine for seven years, he is currently focusing those skills on writing his first novel.
What I learned from Patrick Delarive
Patrick is passionate about everything he does. He has the enthusiasm of a twelve-year-old boy when he talks about any of his projects. The other equally important lesson is that of perseverance. Not every project has been a success but for him, failures have simply given his a greater motivation to succeed. His favorite quote is "talent is a gift but success is a profession". I leave you with Patrick in his own words…
What did you want to be growing up?
"I just wanted to work"
What is your favourite junk food?
"Spareribs"
Which is the last country you visited?
"India"
If you were a professional athlete, which sport would you practice?
"Horse-riding"
If you were a superhero, what would your superpower be?
"Invisibility"
A quality that you appreciate in others?
"Empathy"
What word would you like people to use when talking about you?
"La bienveillance"
Photo: Courtesy of Patrick Delarive