Trade wars and global supply chains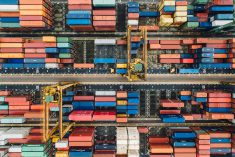 China is a global manufacturing and retailing giant.
The Chinese factories are feeding global consumers with intermediate and finished products.
For multinational corporations with operations in both China and the US, the current trade dispute between these two countries is already affecting or will affect their operations and supply chains.
Tariff increases, threats, and consequences
Unless the US and China find common ground soon, the US is planning to increase tariffs on selected goods by 25 percent by the end of December 2018 and has threatened to impose new duties on all Chinese goods in the future.
John Gong, an economics professor at the University of International Business and Economics in Beijing, said that American global corporations have invested between US 300- 500 billion in mainland China. These entities will be strongly affected in the case of a full trade war should China retaliate against the US.
Why is trade up in 2018?
In dollars terms, US imports from China this year actually increased every month compared to 2017 even after the two rounds of trade tariffs.
This surprising statistic is the result of US-based retailers and manufacturers piling up stocks of intermediates and finished goods back in the US.
At the same time, and ominously for China, US manufacturers are also looking at other countries to make their products.
Moving out
Even before the latest trade war, multinational companies were already looking for alternative manufacturing locations in Asia, moving part of their production outside China, and redrawing their supply chains accordingly.
China manufacturing dominates many industries – especially in electronics and white goods. Thus, there is a high risk of supply disruption without alternatives.
Other countries are building manufacturing capacity and they will partially take over manufacturing from China. Asia is the global workshop and China manufacturing muscle lies at the center, but in many Chinese finished products, there are components and sub-assemblies produced at other Asian production sites outside China.
Stiff competition
The current trade conflict between China and the US has accelerated this shift of Chinese production to other Asian countries.
Thailand, Indonesia, Malaysia and Vietnam emphasis their highly trained workforce to convince companies to move their factories.
Meanwhile, Hong Kong and Chinese manufacturers and exporters are increasingly targeting the internal Chinese market to offset changes in trade conditions.
For European and US global players, however, the on-going China-US trade conflict had not led to a dramatic increase of in sourcing for their Europe and US-based production sites.
Changing supply chains
Overall, the ongoing trade conflict is accelerating the redesign of global supply chains as companies move their production to South East Asia.
As long as China and the US are under World Trade Organization agreements, the two nations will find themselves at both ends of the global supply chain networks: China as the world biggest manufacturing base and the US as the most important market for global exporters.
Antoine Daingui (a fellow supply chain management expert) has written two articles in French, providing great insights into supply chain management and processes.
Sources:
Photo credit:
Unsplash: Photo by "chuttersnap"