The Little Coaching Dictionary: Victimhood

For the French version, click here
When speaking to a life coach or a neuro-programming (NLP) therapist, you can end up confused by the words used. We are offering you here a series to allow you to get familiar with the language and even demystify it.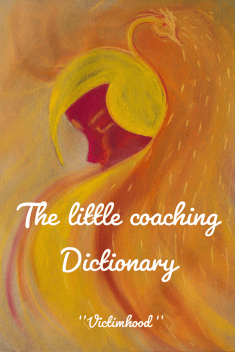 Victimhood is an attitude that determines how we react to and position ourselves in a situation.
Victimhood is blaming others for everything unpleasant that happens to us. To a certain degree, we all have a tendency to blame others when we get hurt. It is important to understand why some do this to the extreme.
Facing Victimhood
We can easily recognise a victimhood attitude in others, but it can be difficult to recognise in ourselves.
As an example, people seen as strong or of 'solid' character often feel that others are not considerate, or appreciative, for their efforts to make things happen. It can be frustrating because they just see in others a lack of consideration.
Similarly, those portrayed as strong are often seen like this because they do not complain, they are engaging, reactive or supporting to others. They may even make you think that their strength comes easy as they smile regularly.
But the truth is they hide the effort and hide their vulnerability. This is not to say that they should complain or cry, but simply sometimes admit 'it is hard, I'm overloaded'. Some suffer from not knowing how to say no or setting limits. Consequently, they create their own suffering.
Others may be stuck in a job or a situation where they think that there is no other choice than to endure. There is always, however, the choice to leave, change or say stop.
It may be extremely frightening for various reason (losing a lover, a friend, a social status) but it exists.
Sometimes, to stop being a victim, you need to stop being your own perpetrator. In theory, this seems simple. In practice, one can use external support to better understand why the behaviour begins and how to end to it.
Illustration by Christel Mesey – Life coach, NLP Master practitioner, Healer, Intuitive Artist & author of Drao Oracle Deck