Work-life balance: a key to happiness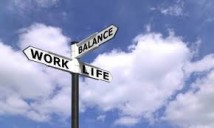 The question often arises about how to find the correct balance between life and work. Some people live to work and spend most of their time at the office, either because they are very passionate about what they do or because they have an unhealthy relationship with their work. These are called workaholics. Others, maybe even most of us, work to live in order to pay our bills and have a satisfactory lifestyle. With the growing importance of work in our lives, having a balance between our personal and professional life has become a challenge.
According to Human Resources expert Susan Heathfield, "Work-life balance is a daily effort to make time for family, friends, community participation, spirituality, personal growth, self care, and other personal activities, in addition to the demands of the workplace". In order to create this work-life balance, it is necessary that employers get involved as well by putting in place policies, procedures, and actions to enable employees to easily pursue more balanced lives.
Such measures can take the shape of flexible working hours; paid time-off policies; working from home; and company-sponsored employee-family events and activities, for example. Managers have the responsibility to create and implement a working environment in their company where the employee will feel valued and as a consequence, more productive.
A recurrent theme concerns women at work where "having it all", (ie. time for children and a position of power) becomes very problematic. As Anne-Marie Slaughter, previously Director of Policy Planning for the U.S. State Department explains: "The women who have managed to be both mothers and top professionals are superhuman, rich, or self-employed". In the end, she made a compromise by diminishing her work involvement to have more time for her family and because she realized that, "Women still can't have it all".
Whether man or woman though, with the demands that we all face in today's world, the pursuit of happiness is not only about making a living, but also getting a life where personal needs are fulfilled through more time for oneself.