Moving forward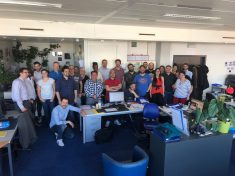 So begins a new year.
Over the past 12 months, Geneva has faced many local and international pressures that still reverberate.
The housing market is down, some multinationals moved away or closed entirely, and the United Nations is under intense financial pressure brought about by budgetary restraints. And we would hate to mention the traffic, but we will. Geneva ranks as the most congested city in Switzerland, and 32nd in the world! There is a bit of work to do there.
But things are actually looking up. Finding an apartment is easier and rents are down. For every company (or big event) that leaves the city, a new one seems to move here. Unemployment rates are stable or dropping. And Geneva is still the centre of excellence in a number of industrial fields, while Swiss-based start-ups are at an all-time high.
The forecast for the economy is positive too.
2018 can be the year of opportunity for those looking. So how do you make the most of it?
The main route to finding what you want is to figure out what you need, and develop the self-motivation to make a decision that helps you. Decide what projects or employment field provides you with passion, and when you have run out of ideas, come up with one more.
The opposite of trying is not stagnation – it is fear. Fear prevents us from moving forward. For many, the fear is that something will take too long (a course or diploma, an apprenticeship etc). At this point, ask yourself how old you will be in five years if you do it. Then ask yourself how old you will be in five years if you do not do it.
We wish you the best of luck in all your endeavours – and remember, if you need a resource to help you make your decision, GBN has all the latest local employment, human resources and business news.