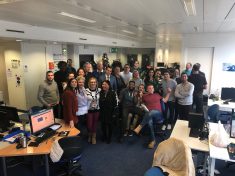 A big thank you from our heart to all our readers in 2018. We hope you have found GBN informative and interesting, and we would like to toast you, preferably with champagne – which you can find out more about here in a fascinating tour of discovery by Pablo Alvarez.
It seems that trade will be a major issue next year, and there is a possibility that Christmas may even be affected by threats to world trade, as reported by Iko Alavo
Of course, each new year starts with resolutions and good luck with following them, but make it simple for yourself by following the advice of Élodie Burri on how to take the best care of yourself.
Giving is receiving though, and one local group that we highlighted and admired is Haiti Cosmos, who have gone to great lengths to make Haiti rise from the tragedy of the earthquake in 2010, such as building a university and providing training to locals to improve their skills. Find out more about this local organization here and the man behind the initiative.
On a slightly different track, and for a longer read, check out our series on quantum computers by our resident expert Abdelli Thameur.
As is becoming obvious, we cover many issues and subjects, from community management, criminology, employment issues, banking, coaching, and social work.
A big thank you to all our contributors for their quality work and to everyone too behind the scenes working hard to make GBN's year successful. Finally, we wish you a wonderful 2019 and stay motivated throughout.
A happy end of the year to everyone.
The GBN Team